Plan your eCommerce Migration in this Holiday Season!!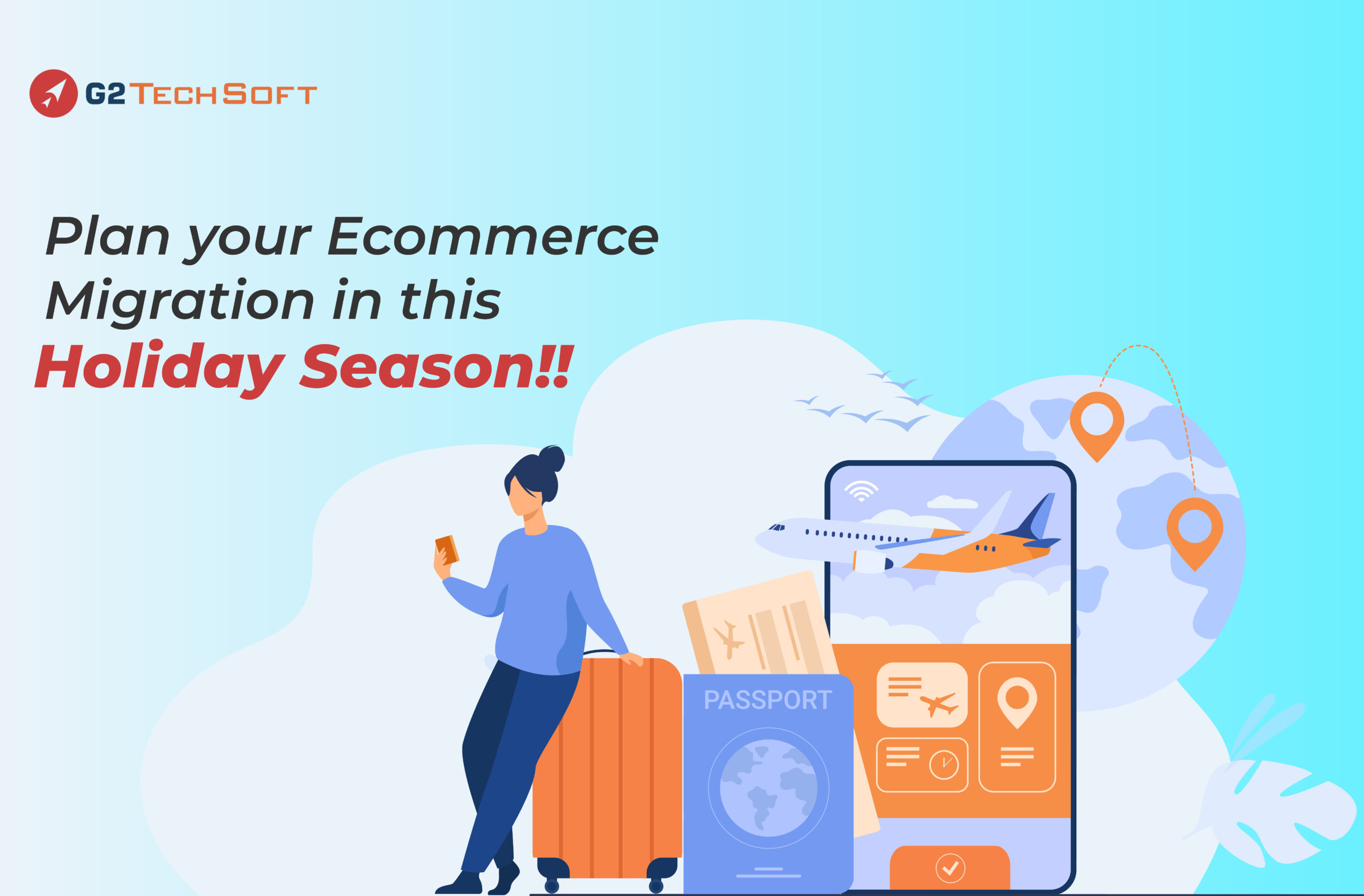 Plan your eCommerce Migration in this Holiday Season!!
The holiday season is right here and with this, comes certain opportunities for eCommerce store owners in their product sales and marketing. As per studies, around 30% of annual sales are achieved by eCommerce retailers in this season period only. Along with this obvious present, the holidays deliver an excellent chance for performing eCommerce migration as well. Know how, in this blog!
Why focus on eCommerce Migration Now?
Those online retailers who are keen to move to some other platform or are interested in eCommerce platform migration should take this step now. This is because the site traffic is at peak in this period and during that time customers expect fast loading of site pages, quick cart to check out conversions, smooth navigations, and easy reverting to other pages without any slowdowns as possible in the existing, bug full, or old eCommerce website. So, if you are planning for eCommerce website migration, whether to migrate WordPress to Shopify or migrate Magento 1 to Magento 2, now is the right time as it is not affordable to lose the customer and ramp up sales revenues in the upcoming holiday season where there is the prime need to secure user-experience without any site down the issue.
Things to be focused on while getting into eCommerce Migration
eCommerce site migration between two platforms should be managed with optimum planning and keeping all risks in mind. The need for eCommerce re-platforming occurs when the existing platform is not working as per the expected conditions and requirements. Some crucial considerations and things are to be focused on when preparing and executing the successful site and eCommerce data migration from existing platform to a new one:
Plan Out Internal and Corporate Considerations
It is important to keep migration affected team .members, third-party clients, and another related corporate close to the project, make them aware of the chosen strategy for migration, launch time, old backups, new inclusions, easy onboarding, and everything possible to have smooth and successful results with re-platforming of the website.
Choose Optimal Migration Timings
As we have already discussed, in the migration project, the timings affect the most. Taking an example of the holiday season, migration in advance is the correct timing as it will affect the sales in the coming dates when the site traffic is going to be at a peak. The set launch date must be non-comprising and chosen while keeping a space for possible modifications and adjustments.
Smart eCommerce Data Migration
Taking full backup of crucial products, services, and customer information from the previous eCommerce platform is a must to ensure not avoiding a single miss of the required data. This backup can also help to compare the eCommerce data once the migration is completed and open up the chances for enhancements without any doubts or confusion about it.
Multiple Website Testing
Early and frequent website testing is recommended during and post-migration as it eliminates the chances for performance glitches when the site will be live. Trials test runs are needed to check up on the user experience on website data processing and order management.
These multiple considerations which are discussed for eCommerce migration should be followed up to prepare such a website that can tackle any event in the future whether corporate risks, data migration, peak traffic stress, tricky user experience, stuck checkouts, slower page navigations, etc.
Plan for a Successful eCommerce Migration and Sales
To plan a successful eCommerce migration and sales, there is a complete process with crucial steps at every stage to be followed sincerely to get the desired sales outputs towards the end.
Identify the prime requirements – Need to know the fields in which improvements are required whether customer experience, features, technology, customer handling approach, sales, inventory, etc.
Request for Proposal –An RFP can be issued once the crucial requirements are defined, which can include questions related to sought eCommerce platform's scalability, flexibility, add-ons, supports, etc. to receive a helpful insight for selecting the right eCommerce platform for the migration.
Choose an eCommerce Platform – This is the important stage where you can take help from migration vendor responses for RFP issued in the previous stage. Here, platform features, support, integration capabilities, ecosystem, and community should be checked to take a final decision on the suitable eCommerce platform.
Migrate and Integrate – Identify all data resources, important integrations, and legacy data, then migrate required data from one platform to another. Also, plan and map third-party integrations carefully or you can outsource migration experts anytime for quick eCommerce migration services.
Test and Train – Use the Minimum Viable Product approach to test your new website to secure your time as well as money. Next, train your team members about the latest migration and new inclusive properly to avoid any miscommunications in the future.
Make your Work easier before Stepping into 2022
eCommerce migration choices are many like Shopify to WooCommerce migration or Shopify to WordPress migration or vice-versa or another combination. The thing is performing migration before stepping into the New Year 2022, is a wise decision as new competitive websites will be launched in the eCommerce market then, and to keep up with these changes, a user-friendly and smooth site experience is required.
At G2techsoft, you can avail of smart eCommerce platform migration services to migrate eCommerce websites through a team of migration experts who got optimal experience and knowledge about all platforms exclusively. The IT services organization delivers its services to both onshore and offshore clients who can reach out with project details by mailing with few required details. Get the fine eCommerce platform migration now!
The best time for eCommerce platform migration can be just before the holiday season begins! And same is discussed with reasons for migration, main things to consider for it along with migration planning stages in this blog. A smart way of migration via outsourcing is recommended to all to save time and extra expenses.