Develop your website and improvise your SEO through the HubSpot CMS platform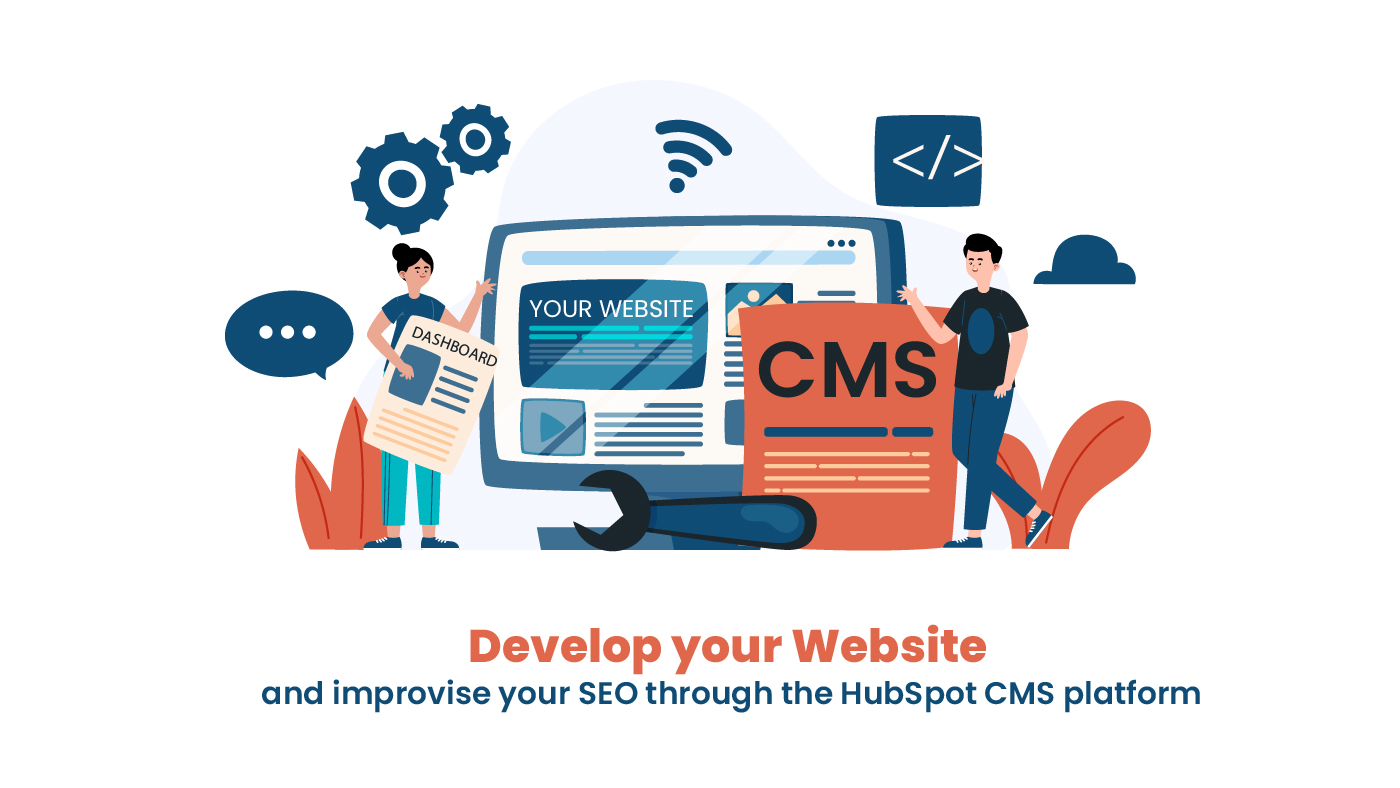 Build your website and improve SEO with HubSpot CMS
Every business may already have a company website where to make the first impression to their prospect. As many of them hosting the website for free or are paid an annual lump sum for hosting service.
HubSpot is the tool that manages your web content, more interactive with prospects which will help you to save more of your time. This tool gives full support and helps you to manage the website from top to bottom.
It also helps you by managing the business operation with marketing and sales. But first, let us know why you need HubSpot CMS out of any other content management tools in the industry. Let us know the importance and main features to obtain more knowledge about HubSpot CMS.
The benefits of choosing HubSpot CMS
It is been difficult for a user to go to a different website to manage all their actions on analytics, social media, email, and other digital handles. Where you can seek HubSpot as a solution to bring everything in one place, to grow your online presence through a control panel that is so easy to use. Let us see what makes HubSpot different and important that we have to know.
Smart content for your content strategy:
Comparatively, a traditional content management system (CMS) helps the users by allowing and easily manage the updates on the website. By hitting one step ahead the HubSpot COS helps the users by delivering targeted content to a specific group of people.
While your website is connected with buyers' journey lifecycle stage or their contact list, it is an easy way to understand more about the buyers. In this way, the smart content is configured.
With HubSpot COS you can help your website with a specific message that will convey to the new visitors, which makes them qualified leads instead of creating the same generic content which will reach the broad customer.
Custom design to choose your templet as you like:
With HubSpot COS you can create the website with a custom template builder. You can even customize the templet structure design and layout however you liked it to be.
With drag and drop, functionality is included in the templet builder, you can even completely customize the layout of your page, the major thing is the style manager allows the font, color, style changes, and more without ever touching the CSS style sheet.
For those with coding experience, you have total freedom to improve the design of the templets as you'd liked it to be.
Responsive design for mobile version:
60% of internet users are accessing the website from tablets or smartphones.
By having HubSpot COS which is completely responsive, instead of having a designer or developer code manually and design the site, let's enable responsive design which automatically fits any screen you are visiting from.
With minimum coding knowledge in HTML and CSS, you can completely create the custom mobile version of your website.
Fast loading website page:
According to a recent test by a Yottaa, the HubSpot ranked first in speed compare to other sites that are built-in WordPress and Drupal.
Google gave an update, that website speed is included in the google search algorithm, faster the page loads which also improve your SEO efforts.
SEO benefits:
Using HubSpot gives the users SEO recommendations by using the content tool which quickly allows them to utilize the high-ranking keywords.
We know HubSpot is amazing. it analyses the competitors, improves your search ranking, and helps you to optimize your site for the right keywords.
Analytical tracking:
What is working and what is not working the HubSpot COS provides the full analytics about it.
To grow on a different aspect in marketing efforts. it helps with your keywords, lets you know the improvement that is needed in your website, suggestions for internal links, CTAs, more landing pages, and other opportunities.
It also helps you as an analytics platform to track organic traffic, page performance, potential leads, and much more.
Step-by-step, how properly you can host your website on HubSpot.
Step 1: Create a home page
Within your HubSpot portal, click "Content" on the dashboard. Then, click "Landing Page".
After that, "Create landing page" button and name your page.
Step 2: Search and select your template
While you're on the "select a template" page Many attractive templates you can find, where you can search through your options.
When you find the template which you feel, select it.
Step 3: Edit the modules
After finalizing your landing page, you can scroll over to all the text boxes, images, or other modules to edit them.
By using the "Edit module", you can edit from there. For example: If you select "service 2 texts" below the edit module, it will direct you to "make it your own paragraph" on your landing page. You can even do all the changes from the edit module.
Step 4: Create Website pages
After creating a landing page, you need to create the other pages for your website. In the dashboard, by clicking content, you can choose "Website Pages".
You can name your website page just like your landing page, then the same process. Choosing templates and adding content.
Step 5: Updating your social media accounts on your website
On the dashboard, you can find "Social".
You can manage your social media presence by tweeting, Facebook ads, comments, Instagram posts, and other content straight from the HubSpot dashboard.
Step 6: View analytics
On the dashboard you can find "Reports" in the reports you can find "Analytics tools"
While selecting it, you need to install the tracking code, which is simple you can do within the HubSpot platform itself. Just by clicking the "Install the HubSpot tracking code" button.
Step 7: Adding blogs to your website
There are plenty of feature tools that you might want to explore in the HubSpot CMS, to create the blog, publish it, and monitor your website blog post.
If you want to explore more about it in-depth, check out this article on academy.hubspot.com.
All the benefits of HubSpot CMS are structured with these professionals in mind.
With a step-by-step introduction, you know how powerful can be HubSpot CMS. If you're in the market to rebuild the website, without any doubt you can choose this leading marketing automation software.
With all benefits in HubSpot, full and fully it supports these professionals that is how it is structured too.
Marketing:
From a marketing perspective, HubSpot CMS Hub makes out quite well within the top 10 CMSs being used today. When it comes to the management of content, it's an exceptionally easy platform to master. No technical aptitude or background is required to create, publish or update your site pages.
HubSpot CMS is an all-in-one platform that now seamlessly connects your CMS platform with your (CRM). You can make use of the smart content features and personalization which helps you tailor your visitor's experience. With these features, as a marketer, you can ensure your content strategy, offers, and outreach is aimed at a specific audience's psychographic and demographic factors. The CMS Hub also comes with conversational marketing tools allowing you to enable a live chat function or a chatbot on your website.
You can also enjoy centralized inbound marketing, sales, and service tools with your analytics being housed on one platform. The all-in-one tool ensures better alignment not only between your sales and marketing teams but also with your service teams to deliver a seamless customer experience. The CMS Hub also offers a calls-to-action tool, a content strategy, an SEO tool, and a responsive preview to make sure visitors and search engines love your content.
Development:
From junior to the more experienced developer, all agree that they love the freedom and flexibility that the design manager provides. The past few years have seen massive updates to the editing process, as the team at HubSpot focused on providing the best design experience for their users.
The Developers can work on complex codes, so they embrace this platform apart from drag and drop they can push the boundaries. So, they appreciate HubSpot CMS for:
Local website development
Serverless functions
Website themes
Dynamic content with Hub DB
Code alerts
IT:
At the core of the CMS Hub is speed, security, and reliability, which is what will make your IT team love it. It features 24/7 security monitoring and threat detection. The HubSpot security team ensures the safety of your site with both automated and manual checks for attacks, potential abuse, or other unauthorized breaches.
We speak so confidently about this platform because At G2 we have a keen understanding of how to put all the pieces together and make it your favorite marketing automation software.
The newly updated HubSpot CMS Hub provides a list of tools.
Why HubSpot is unique because it offers sophisticated marketing and sales tools to help and develop the site which will attract the appropriate audience to your website.
In that case, let us see a list of tools provided:
All Features of HubSpot CRM
Forms
Form Follow-Up Emails
Phone Support
Ad Management
List Segmentation
Mobile Optimization
Blog & Content Creation Tools
Calls-to-Action
Landing Pages
Standard SSL Certificate
Smart Content
Dynamic Content with Hub DB
Website Pages
Design Manager
Staging Environment
Robust Template & Module Marketplace
Website Analytics
SEO & Content Strategy
Google Search Console Integration
Custom Domains
99.99% Uptime
Content Delivery Network
Security Monitoring & Threat Detection
Conclusion
With technology getting updated, the customer expects more from your website. To meet your customer expectation for security, workflow management, SEO, and lead conversion you are forced to use additional tools. Where we can help you to develop your website, maintain it, and make sure it reaches the right audience.
Having a good website for your business is essential, if you're looking to build a new website for your business, we at G2 here for your solution.
Want to know more about HubSpot secret? We're dying to share it with you. Give us a call to know more.