Digital Transformation in Banking: Successfully execution of operations in banking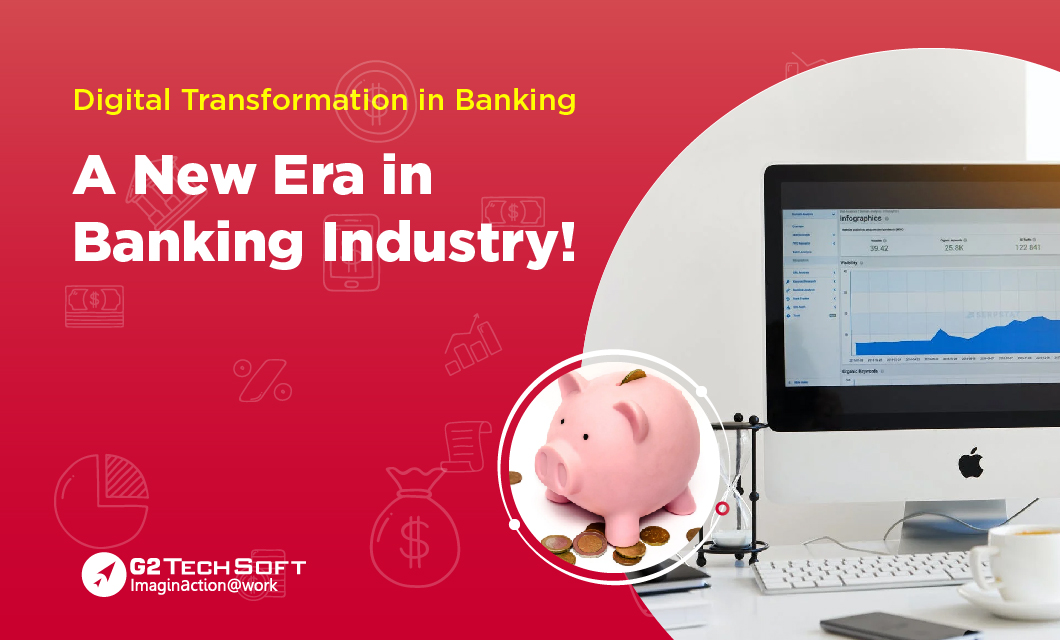 Digital Transformation in Banking- A New Era in Banking Industry!
It is time to realize the importance of digital transformation in the banking industry like other growing sectors – medical, restaurants, social media, marketing, etc. For a large period, utilization of the banking facilities and services were dependent on the physical presence of the individual at the authorized banks but today the scenario has changed for the better. It is rightly said that the digitalization of banks or digital transformation in banking is a new era in the banking industry. This transformation from the legacy structure is much needed and many specialists and professionals do think that there is a wide room for initializing digital concepts in all levels and operations in the banking industry on all possible levels. There is a need for completed digitalization of the industry to the extent where there shall be no need for the customers' visits at all.
Why Banking Industry should move to Digital Transformation?
Many banks are progressive in the way of using digital transformation strategies and technologies currently. This transformation has added to their business benefits like operations flexibility, security, streamlined banking processes, customer convenience, and more.
On the other hand, the disadvantages of the legacy banking structure and operations such as – high maintenance costs, lack in flexible operations, regulations & compliances, customer annoyance, complex platform integrations process, trouble in new products launching, etc. can be outright eliminated and the perks of digital transformation which are valuable for customer retention and helps in lifting the revenues to the best. With every sector on the digitization concept, the banking industry has a lot to gain through it and should be completely digitalized.
Huge impact of Digital Transformation in Banking and Financial services
Digital transformation in banking 2021 was a surprise. It was the year that stands on the nerves of everyone due to the pandemic and affected almost every sector forcing them to "Work from Home". The government realized the situation and provided 3 months of flexibility on home loans via banks as urgent financial help in its digital transformation strategy.
Other grown digital transformation aspects in banking and financial services like digitalized payments (with a linked bank account to a payment application under security and compliances of the associated bank), transfers have eased up the sales and purchase from vendors and customers respectively in this lockdown time. But the reverse effect was also visible, the security of these online transactions. Though it claims secured gateways and SSL security but cybercriminals have multiple ways to hack accounts using these UPI and other transaction apps. The digital transformation introduced by banks for online payments through mobile applications in this pandemic has invited numerous fraud cases, scams, and cybercrimes worldwide which are even difficult to count. These challenges need to be discussed well by the authorities to completely turn the digital transformation in banking and financial services into a profitable business with enhanced customer experiences and high revenues.
Reasons why banks and financial institutions require digital transformation
Digital transformation relates to the concept of completely turning the legacy banking and financial services operations structure and strategy into an online or digital platform. It helps in customer engagement, quick operations, and customized processing with easy to go products launching and new platforms integrations.
We are stating some fine reasons for understanding the need for digital transformation in banks and financial institutions.
To be updated with digital technologies:
Digital transformation can be modified anytime by deploying a new business strategy as per the current trend and the demand for digital technology in the market. For example – The payment app technology – Google Pay is hot in demand by most of the users for money transfers and payments online. Innovations and adaptation to new digital technologies to transform your business in banking are crucial for long-term business success.
To make cost-efficient investments:
Banks and financial institutions which are digitally transformed have invested in a venture of low installation, investments, and maintenance costs where data-driven technologies are adopted to run banking operations online without the need of physical forms, cards, cheque books, or customer's presence at respective branch.
To offer customized services:
Through personalized offerings (financial services) by digital transformation in the financial industry and banks by direct engagement on the digital platform realizing the actual needs of the customers for investing their money using the right strategy, flexibility in customer services will be introduced.
To grow customer's engagement:
Customer engagement with digitally transformed banks and financial institutions will improve with the number of marketing platforms available on the internet for banks to directly reach out to the potential customers via email newsletter, messages, ad-links, social media, and more platforms rather than flyers or agents who work hard for fewer profits.
Benefits from Digital Transformation Strategies
Digital transformation is not an easy process. Out of the multiple digitalization strategies, the right one is to be chosen. The most common aspects included in digital strategy and transformation by banks and financial institutions are –
Assurance of security and compliances
Improved customer experience
Reduction in IT TCO
Core systems modernization
New products launch with low time-to-market
Let us understand some of the popular digital transformation strategies for banks and financial institutions along with their profit points.
Greenfield:It is the ideal digital IT strategy and transformation for new banks as the transformation is via scratch, performed on a new platform and thus there are no migration risks involved.
Big Bang:As the name suggests, the banks which prefer fast results can adopt this IT digital transformation strategy. It yields quick outcomes with new implementations in a single roll-out event in the process of digital transformation.
Continuous Renovation:The lowest risk digital strategy & transformation is performed in stages with the overall and constant evolution of the banks with new technologies.
Wrap the Core:This IT transformation strategy is suitable for those banks who are interested in migrating legacy core as per their requirement. So, in this strategy, a tech layer is added and no alteration is performed in the legacy structure. The banks are free to decide and implement a digital transformation IT strategy.
Selective:The selective digital transformation and strategy involve the transformation of selective banking areas only. Thus it is less risky and good for banking business who seeks a reduction in investment and maintenance costs.

Every digital business transformation strategy for banks/financial institutions is meant for different sorts of banking minds and offers quick, selective, need-based, fresh, cost-shedding, continual evolving digital bank transformations based on their current business requirements. Check out the right IT strategy for digital transformation along with digital technologies to transform your business.
How G2 can help you in transforming your business?
If you want to get a perfect digital business transformation or a digital strategy for business, you can move to digital transformation consulting for business strategies in digital transformation by hiring a reputed digital transformation company. G2 TechSoft offers its clients highly advanced and cost-effective digital solutions including digital transformation services. Get connected with us and share your requirements.
We have covered various aspects of digital transformation in banking and financial services in this blog. The importance of digital transformation in banking, reasons for migration, and different benefits of multiple transformation strategies, and a recommendation of the reliable and trusted digital transformation agency for businesses are discussed widely.