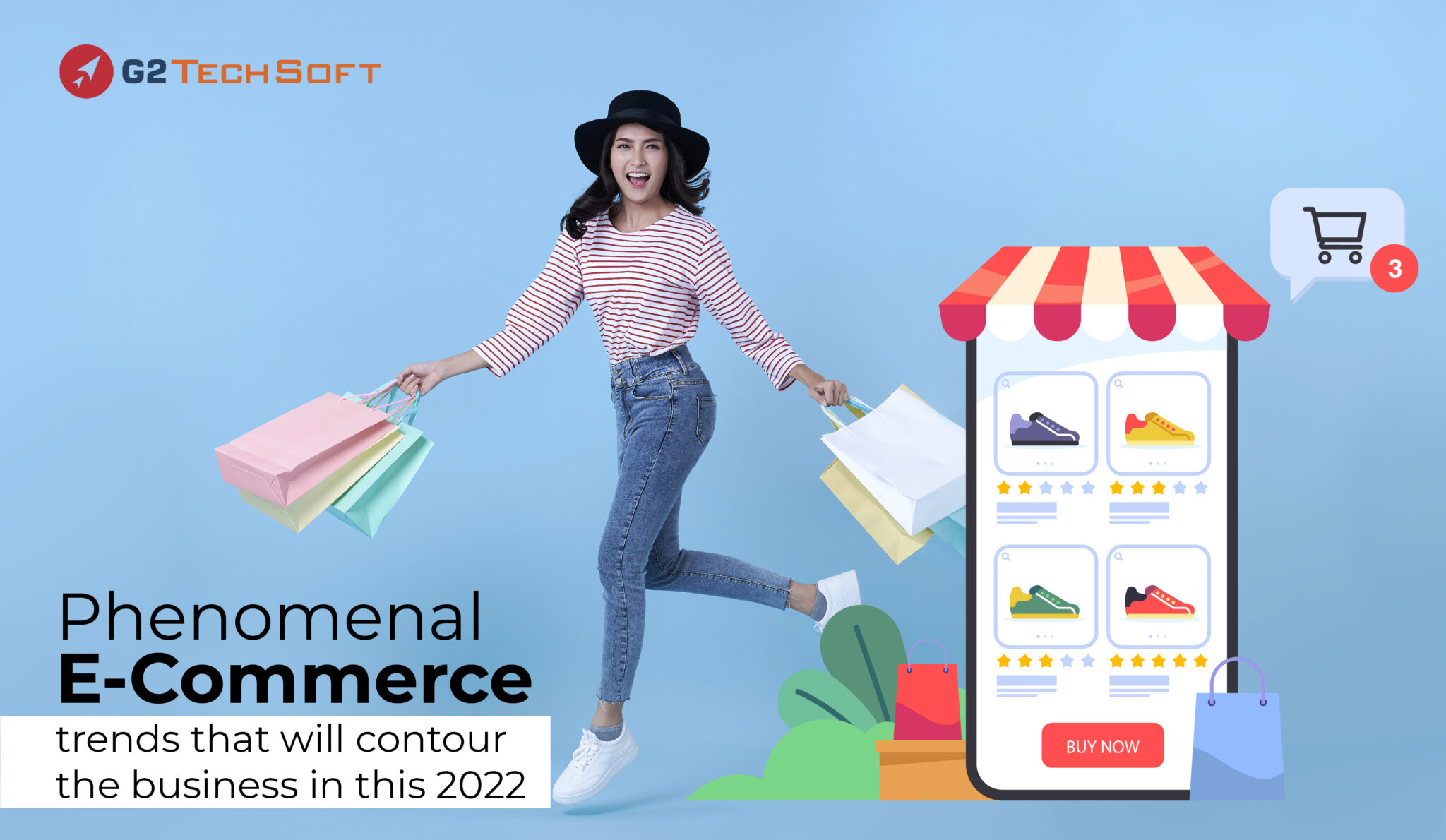 Phenomenal eCommerce trends that will contour the business in this 2022
The whole world is accelerating towards online business. Post-Covid helped us realize that businesses; can be run without any hassle using smartphones. So, this massive growth has provided us with the 360-degree digital transformation in this transition towards the new normal. Adapting towards the innovations helps the business owners to evolve with the; new strategies. Undoubtedly covid-19 has derived the solutions for leading B2C eCommerce companies to be essential for our day-to-day life. People can shop safely from wherever they are; without panicking about the surge of this virus.
In this pandemic situation, the booming of the eCommerce business is definitive. The stats presented here will show the value of the global eCommerce leaping towards $26.7 trillion. As the number of digital consumers in 2021 has increased. Where nearly 2.14 billion consumers started using online services. So, global eCommerce sales are about to hit $4.2 trillion. By 2025 it is predicted eCommerce sales will reach $7.4 trillion. So, an organization or business owners need to analyze the latest trends to fulfil consumer expectations with cutting-edge technologies. By now, we all understand that the eCommerce industry is already a big player. In 2022 from this blog, let us; understand its latest trends.
Current forefront eCommerce swift in 2022
eCommerce has helped many organizations to optimize their business operation. So, it is natural to operate a successful eCommerce business. Business owners need to follow game-changing trends. It is not easy to structure the business flow without any hindrance. The operational head should stay ahead by knowing the cutting-edge trends of the competition to run a successful online business. So, let us dive into forward-thinking trends that help scale business for these upcoming years.
Voice shopping/ Voice commerce takes the limelight:
Ultimately eCommerce has evolved as consumers change their way of purchasing goods. In this fast-growing technological world, the power of the internet is an; ultimatum. The introduction of voice commerce helps the customer uniquely by giving them hands-free controls over the devices. So, these types of automated solutions. Help the customer to reduce seeing their screen and save lots of time. The customer can also be more precisive about the product. So, they can find the latest offers and deals.
In this fast-growing internet world, almost everyone started using voice assistance like Google, Alexa, Siri which, have obtained admiration. While this is the trend voice commerce market will cross $4 billion in the forecast period of 2016-2022. The research from revie42 shows us the global voice-based search market could be worth $30 billion by 2024
On that account, it is pivotal for eCommerce business owners to incorporate voice assistance into their mobile and website apps. G2 provides top-notch, experienced support. So, without any hassle, G2 helps the business owners by optimizing keywords and inquisitive; questions that fit into the application.
Exploit the prosperity of AR and VR:
The majority of the customer exit their cart without any hesitation. The customers are not ready to complete their purchase, which shows us the reality and makes the business owners change the engagements activities differently. Moreover, this pandemic helps to understand consumer behavior deep. Which ultimately provides eCommerce an upper hand. Although nowadays, customers started preferring to buy a product digitally rather than taking risks and visiting stores. Top eCommerce brands are already into a game; of AR and VR to enhance the customer experience tremendously.
As an eCommerce store understands the benefits of VR & AR, it helps to minimize the drag. So, without any doubt, it helps the customer; to find the products quickly and smoothly. Now, Facebook understands the importance of AR & VR and introduced META for a reason. Undoubtedly it helps the business to increase its marketing efforts digitally. Since the customer started trying everything virtually, they get confident and take precisive conclusions without returning the orders. AR &VR market forecast reach $30.7 billion in 2021, which will rise to $300 billion U.S. dollars in 2024.
So, eCommerce brands already have proven records. Business owners also should leverage the; ultimatum of AR & VR. G2 provides a unique solution for any business it is. As a result, it helps to unlock the hindrance efficiently.
Expeditiously progressing Artificial Intelligence (AI):
Undoubtedly technology always keeps pushing its limits. Online retailers need to adapt to the advancement of technology. It is convictional that AI can help online business owners to optimize the data and deliver a unique customer experience. With these collected data. The businesses can take the decision peacefully. AI is known for its Awesome features. AI technologies; are defined by Certain processes. Such as:
Data mining: For an eCommerce brand, data is Important. With the collective of old and current data, it is efficient for a business owner to predict the business outcome without any hindrance.
Machine learning: Machine learning is known as deep learning. With a collection of algorithms, it is easy to; give the command to the computers to solve the complications. It presumes by layering the algorithms, which ultimately; gives grip to data.
Natural language processing: It helps to bead-rock on human-computers communications. So, it helps to synergize how computers explicate human languages naturally.
By 2025 AI market is forecast, around $126 billion.
The demand for AI is at its peak. Many AI technologies help business owners to improve their daily tasks and provide an Alluring customer experience. G2 helps to deliver various benefits of artificial intelligence services. With AI and ML, businesses can leverage huge benefits. Deliver to the customer without any issues.
The virtue of personalized marketing and product navigate to conversion:
As we have headed to 2022, almost every brand needs personalized marketing and communications. Statistically known, it helps to increase sales and loyalty of the customer. Customer expectations are; completely volatile. So, business owners need to assist the customer; to buy a product apart from quitting the idea. More data about the customer behavior, better the personalized shopping experience for them. While owning an eCommerce store, owners need to be proactive. Because then only customers will start noticing the product.
Based on Zendesk research, 45% of the customers have a bad; experience because of repetitive information sent by the business owners. Though, 23% of the customers say they feel annoyed when there is no information. By segmenting the audience through their behaviors, the sales are aggravative. Through proper email and SMS, the relationship between; the customer and online business owners is encouraged. AI-powered personalized marketing tools or software help the business owner send relevant pop-ups, emails, and offers to customers.
To build a long-lasting customer relationship. Marketing automation is Important. 83% of customers prepared to share their personalized shopping experience data. With that, G2 can help online business owners integrate an AI-intelligent website, which helps track the data and provide a hassle-free experience.
Diversify the business with omnichannel selling:
Though there are two types of targeting customers, driving your customer through the primary digital property (WEBSITE) is hard. Unfortunately, that also limits business growth. To increase sales, business owners need to use a multichannel marketplace like; secondary digital property (SOCIAL MEDIAS) which drives a variety of customers to the primary digital property. Because 37% of the customer. Buy or research about the product or brand on social media only. So, this shows how important for an online business owner to do business through omnichannel selling.
Sprout social has explored and given us the stats that 84.9% of consumers don't buy the product until they see; the product multiple times. 46.7% of online search starts from the marketplace like eBay and Amazon. The customers understand the ratings and reviews from here. So, that helps to initiate the process of buying the product.
As technology grows, omnichannel will play a vital role in the eCommerce business. G2 helps to expand the business by; initiating it to various social media platforms and other markets place; with professional support.
Wrapping up
As we understand eCommerce business is booming. The consumers; needs will be changing so the expectations. G2 helps online business owners to optimize their online eCommerce store with cutting-edge technologies. No matter what your business needs are. G2TechSoft will be your one-stop solution.