Get ready to launch your eCommerce store in these holidays with given safe ways!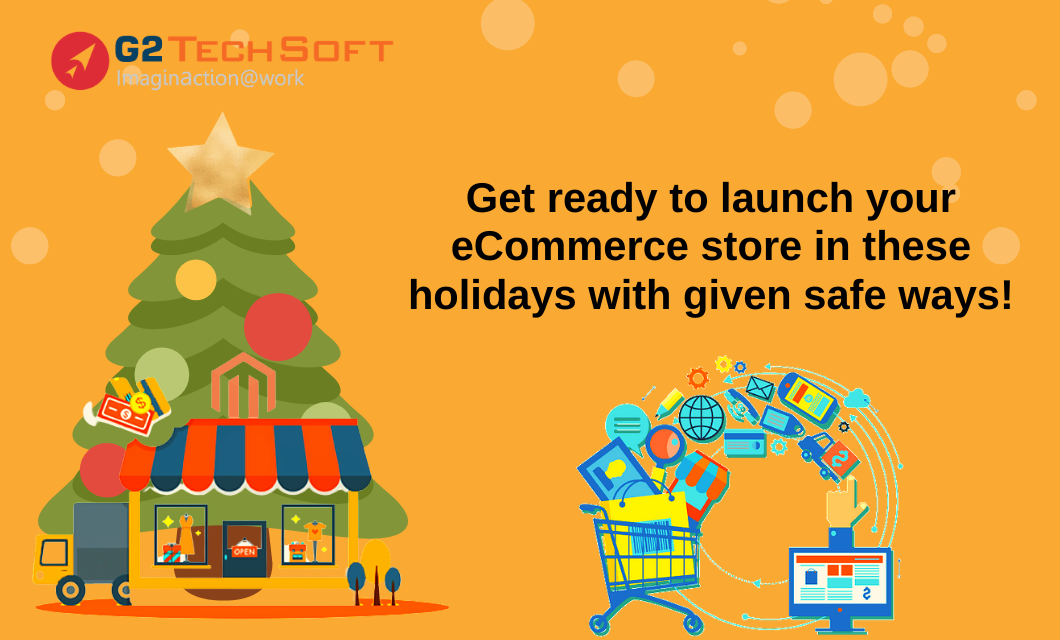 Holidays are just nearby and we know this year is quite an unusual one. The pandemic has grabbed all the attention and there is a great decline in the interest of people to go out shopping in the current time, rather they prefer to shop online through the desired eCommerce store.
The dilemma is not over and so; most people are relying on eCommerce websites for oncoming gifts and festive purchases. eCommerce store owners have to ramp up their game as the competition is going to be really tough this time due to the rapid increase in demand for online products and the availability of many competitors today. Regular sales and promotional practices should be replaced with new and innovative strategies to stand out in the market.
A perfect eCommerce website optimization is the current requirement to boost traffic to your website.
Start launching your eCommerce store early in these holidays
Why we are stressing the point to start your eCommerce store early in these holidays? This is because many users would be purchasing online during these holidays and the percentage of last-minute buyers would be very less in comparison. Everyone who is purchasing online would order the gifts or other festive items with a margin of days (or month) to get them on time or before delivery of the product items.
You, as an eCommerce store owner, should realize this fact and start preparing from now onwards. Don't wait for the holidays' arrival rather plan and strategize the best ways to drive traffic to eCommerce website. There is a lot of work to do for the website designers and owners to make their eCommerce website ready to compete with its contemporaries while maintaining security and reliability. Search optimization, site campaigns, promotional activities, site security measures, and more tasks are in alignment. So, early preparation and onset of the eCommerce store is the necessity to harness most out of the upcoming holiday season in the form of profits and revenues.
To increase your sales revenues and hold up your business leads, you need to think from the customers' perspective and optimize your existing eCommerce website as a secured and attractive platform for buyers all over the world.
Safe ways to launch and optimize your eCommerce store
Now that you have realized the importance of the early starting of your eCommerce store in these holidays, it is time to discuss the secured and intelligent ways to set up an optimized eCommerce store.
To get real visitors to your website and heaps of sales revenues this ending year profiting the best from these holidays and even post it, follow these smart and useful eCommerce store optimization strategies to launch your eCommerce store securely and competitively.
Analyze Your Website Performance
Improve On-Site Search Capacity
Use Social Media for Advertising
Free Shipping to Customers
Perform Checkout Page Optimization
Enhance Your Website Security
Retarget Lost Customers
Update Current Promotions Agenda
Ensure Best Customer Support
Analyze Your Website Performance
This holiday season would welcome a rush of new customers and the website page loading can be an issue. You need to create your landing page with asynchronous scripts for quick loading of important elements and can prevent site slowdowns by deploying Javascripts minified. Check for the effective Content Delivery Network, image loading, mobile responsiveness, and speed of the website page loading after landing page optimization.
Improve On-Site Search Capacity
By improving On-Site search capabilities, there are high chances to increase customer attention towards your eCommerce store. You can review keywords by Google web page optimization and find out the transaction-oriented keyword which is the best SEO plan for eCommerce website. There are more strategies to use like adding common search suggestions, featured results, correcting spellings automatically, on-page SEO for eCommerce, etc.
Use Social Media for Advertising
Social media is the best place to buy traffic for eCommerce websites by advertising creatively for your products in the holidays. Creative and trendy holiday hashtags, holiday-themed backgrounds in promotional pages with seasoned discounts are some best tactics to attract new customers for your eCommerce conversion optimization.
Free Shipping to Customers
It is another eCommerce conversion optimization strategy to drive traffic to eCommerce site with the exclusive facility of free shipping on each of the ordered products enabling them not to leave the offer at all. Ensure that the offer for free shipping is clearly mentioned along with the earliest date of delivery.
Perform Check Out Page Optimization
To avoid a cart abandonment situation in your website, you can introduce many provisions to optimize the Check Out page leaving no scope for any confusion and frustrations among customers for the Product Check Out process. Try integrating a single page for Check Out process to avoid redirection to other pages, adding multiple payment options including UPI with secured Payment Gateway, allowing Check Out without registrations for customer's convenience.
Enhance Your Website Security
When you have high traffic expectations as in these holidays, try fixing the website errors first to avoid any frustrations from the end of customers like "No Search Results Found" or "404-page" error resulting in the high exit rate. Use different ways to increase conversion rate like Google Analytics to track on-site search terms and take expert guidance for a more secure website.
Along with working for new customers, take time to retarget those who once visited the website but did not make any purchase. You can carry out a remarketing campaign by adopting the best eCommerce email marketing to a targeted group of audience, sending follow-ups for completing an order to customers via email, etc. This would be a nice strategy to launch the eCommerce store for a wider audience.
Update Current Promotion Agenda
Up your game in the promotional activities with best conversion optimization tools before launching the eCommerce website while there also a need for maintaining a Promotional Calendar with complete information of product launch and availability with added discounts, support services, and management for marketing automation tools must be in collaborative communication with the web team. The Calendar must be followed tightly to optimize for conversion at a high rate.
Ensure Best Customer Support
Any eCommerce website is not successful without an effective Support team. In the upcoming holidays, many customers could be having doubts and queries related to the products and discounts offers, thus strong eCommerce support services are required with a dedicated team of technical experts. All-time availability with effective solutions needs to be practiced before launching the store.
In total, customer convenience and retention during holidays are the prime requirements to bring traffic to eCommerce website achieved by assuring it through deploying safe ways as explained in the above points.
How G2 TechSoft can help you in launching your eCommerce store?
Are you still not so confident about launching your eCommerce store yourself and need a helping hand? Well, you are on the right page. G2 TechSoft is a renowned offshore eCommerce Development Company that hires expert eCommerce developers to assist you in all eCommerce development services, conversion optimization services, and eCommerce SEO services required to launch your eCommerce store in these holidays safely. Get experts insights and advanced training along with fair deals with the G2 TechSoft partnership.
Get ready for your shopping season
Make your eCommerce store launch a grand one in this shopping season with the adoption of multiple considerate points explained and the assistance of an expert consulting agency to earn the best profits ever.