E-Com businesses these days face the need to line up a humungous array of products that are ironically short-lived across multiple channels. They need to be constantly updated to ensure quick deployment in the market for the end customers to enable them to make data-driven buying decisions. This Omni-connected world makes it easy for customers to search and find their product needs. But on the other hand, e-com businesses face challenges in ensuring the quality of product data across multiple channels.
A similar situation existed for the Catalogue Manager of our Client, a leading chain store across South Africa that sells clothing for men, women, and kids. Some of his tasks involve:
Product data updating
Managing multiple catalogues
Supplier data management
Ensuring data quality and consistency
With no automated process to assist, it was very hectic for him to enjoy his work.
He constantly faced various challenges at every step of his work.
Need for different data formats for different channels which required time-consuming efforts to keep it updated at all.
Incomplete and deviant product data also caused the same problem.
Difficulty in managing a single repository for data publishing across channels
Difficulty in the category-wise mapping of product information
Making the product data to be customer-ready was tricky
They wondered what they can do to ensure that the product catalogue is published on time accurately. They wanted to ensure that the product data is consistent across all their digital channels with information in their Shopify account. They wanted a functionally rich solution that can cohesively support their product data management from creation to completion, reduce all manual efforts, and the time to market their products.
That's when they teamed up with G2TechSoft to automate their catalogue management process across multiple channels to increase their sales like never before.
We analyzed their need for an AI-based solution to automate their online product catalogue management process, and reduce all the tiresome manual work while increasing their sales pitch.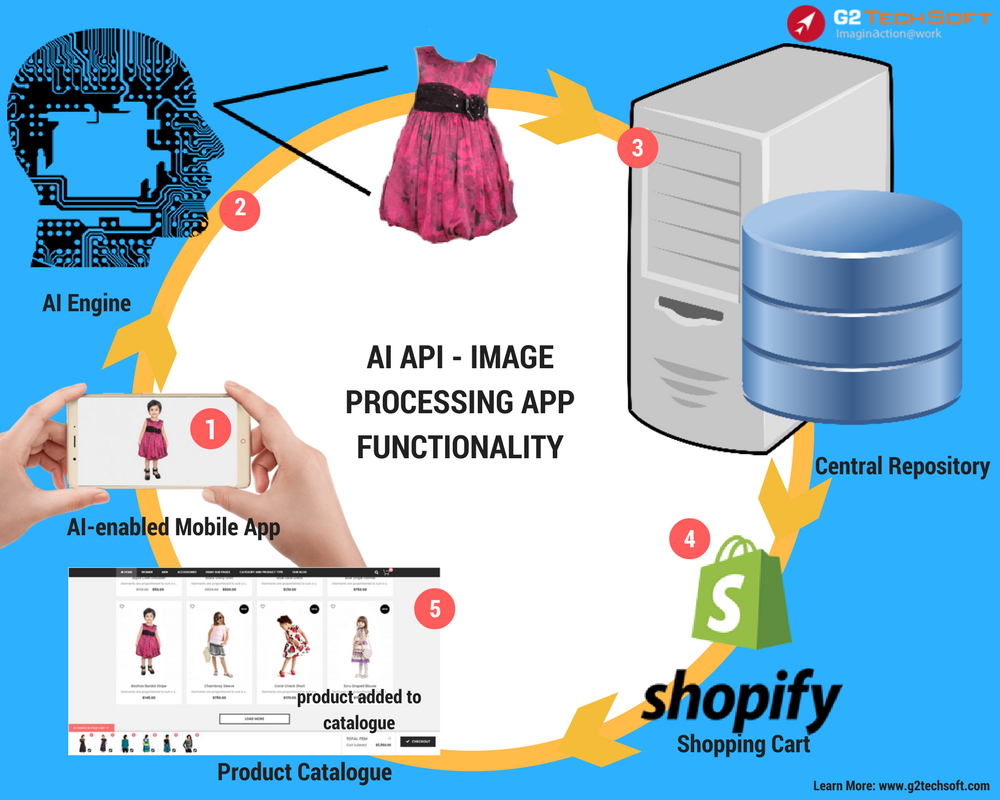 G2TechSoft Solution & Functionality
We designed an AI API-Image Processing App exclusively for managing, updating, and uploading product specifications by just scanning the image of the clothing. The AI-integrated mobile app allows the user to capture the image of a garment, which is fed to the AI-engine. The AI-engine identifies the type of clothing and generates the product details for that garment. This data is then fed to the centralised repository, which is then sent to the client's Shopify account for that product.
G2TechSoft AI API Solution Benefits
Our AI API-Image Processing agile catalogue management app helped our client in delivering a consistent online shopping experience to their end users.
Data Consistency:
Our solution enabled easy and efficient management of a high number of SKUs. It also enabled seamless retrieving and publishing of product information on different channels as per the required format across various channels. They witnessed a 30% increase in returning customers with this fully attributed and accurate product information.
Easily Accessible Product data:
The AI API app ensured timely launch of new products, swift designing, creation, and launching of catalogues according to the needs of their customers. With easy access to product data from the centralized repository directly to Shopify shopping space, the client is now able to manage a cross-channel strategy for catalogue creation across multiple channels.
Catapulted Business Growth:
Our AI API app provided the client with the opportunity to outsell their products, generate more revenue and earn loyal customers. Additionally, it reduced the manual effort, the time and cost involved in managing these products. We helped them witness a 200 percent increase in website traffic over a period of 3 months and a 15% increase in new customers.
If you are in a similar situation, team up with us today and let us build the right solution for you.