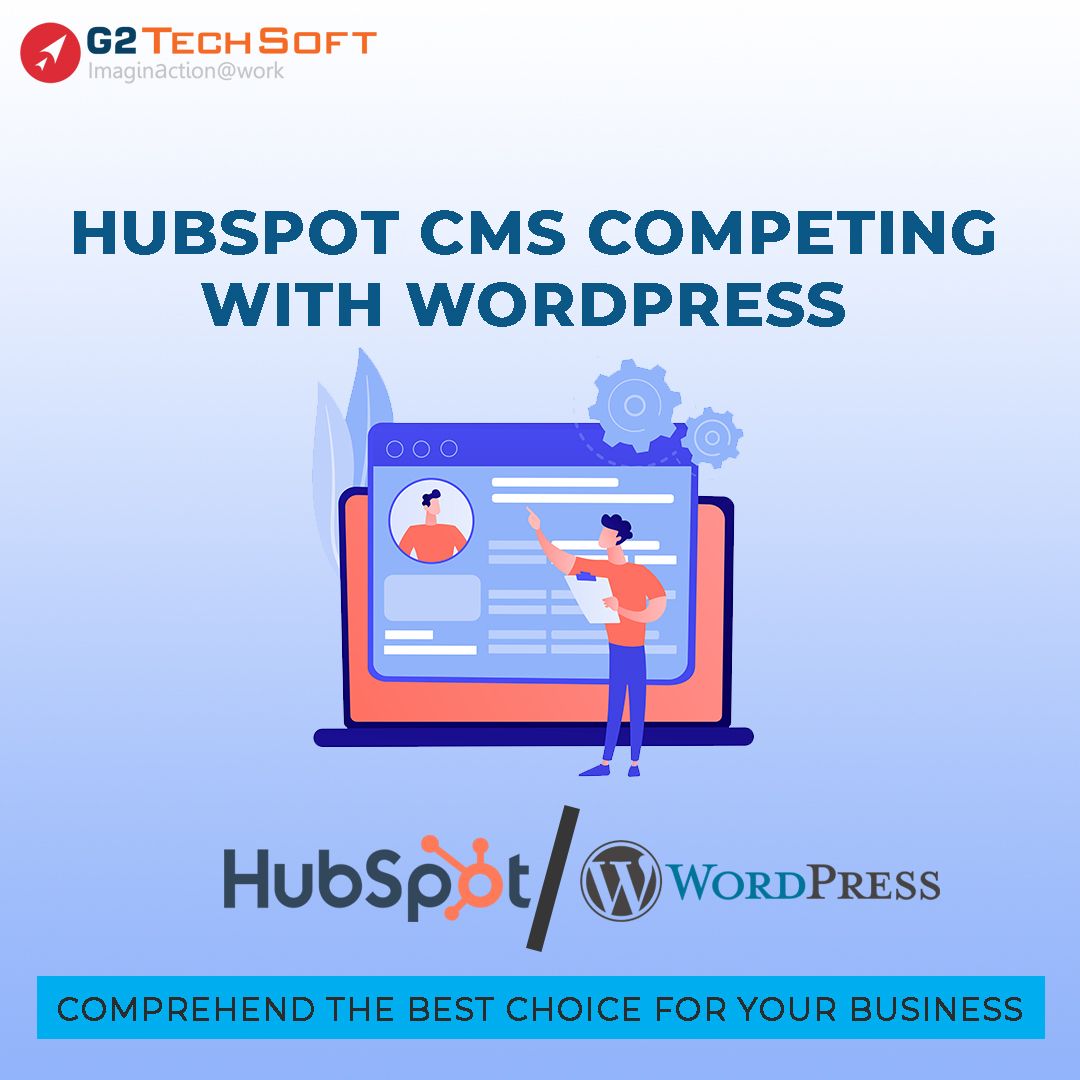 HubSpot CMS competing with WordPress: Comprehend the best choice for your business
In case, your business is marketing the products or selling the service, the website is the primary decision for the business owners to generate new leads to increase the revenue for the business. Using social media management, the marketers can list the service/product to the consumers and persuasively bring the customer to the primary digital property. So, eventually, marketers understand. CMS (content management system) is inevitably salient to complete their business. With the hard truth in this Covid-19, everything went virtual. To slap and succeed this crucial reality. CMS is a successful way to build an alluring website for the business.
But hold on!…
Nothing is good enough without a rivalry. Many CMS development companies understand the popularity of this leading content management system magic. Let us dive into the blog to understand which is better CMS. HubSpot Versus WordPress, both platform helps the business manage and edit the content. But the approach is. Completely different. So, excitingly let's find out both features first.
General outlook and analysis:
Hello, I'm HubSpot,
For business owners, I'm (HubSpot). Popularly; known as CRM (Customer Relationship Manager). Competitively I (HubSpot) also provide a personalized content experience known as CMS Hub.
Using me (CMS Hub) is flexible for the marketers to improvise, a powerful tool for the developers, and accurately gives the customer a personalized and secured experience.
In general, I'm (HubSpot) is a complete suite that works as an inbound marketing tool that is structured to help business owners to concentrate on lead generation and the growth of the companies.
Hey, I'm WordPress,
With many dissimilarities, I'm (WordPress) is the first and leading CMS that does not offer tools like HubSpot. But, I (WordPress) provide plug-ins that the marketers or developers can integrate through third-party applications.
With me (WordPress). Business owners can get the most prominent content management system with a definite focus.
There are 708 million using me (WordPress) CMS today. Because it is easy to use, liked by every search engine, and most importantly. WordPress replaced the clumsy Joomla 1.5 CMS.
CMS Explained!
The CMS is considered a vital part of the website. Both the rivals help you make the framework. So, you can build the website from the core. Great CMS development service provider gives an elegant end product using these ways:
Developers who; build a website using CMS focus more on brand reputations.
It is helpful for marketers to track and analyze people visiting the website.
Engaging with the audience also helps to publish and update content regularly.
Undoubtedly helps to optimize conversions.
There are plenty of CMS available to create a successful website. G2 listing some of them here:
WordPress, HubSpot CMS, Drupal, Joomla, Magento, Squarespace, WIX, Sitecore, Ghost; etc…
Typically, good CMS is equal to functional, user-friendly, multiple tools or plug-ins to improvise your website without any hindrance.
HubSpot CMS Vs WordPress
| | | |
| --- | --- | --- |
| Aspect | HubSpot CMS | WordPress |
| Security | In-built security features | Third-party plugins and software requirements cause high risk |
| On-page SEO | Offers In-built analytics. | Custom-Built features. Helps to keep up-to-date goals on tab. |
| Blogging | Constrained blog customization property. | Hosts plenty of tools to customize. Provide alluring looks of the blog. |
| Design | Insufficiency in design customization and experience | Using third-party plugins, Experience and custom-designs are purchasable from designers and developers |
| Support | 24*7 support provided by the in-house team | Using plugins means, needs to use own developers |
| Pricing | High pricing model | More free plugins reduce purchase costs |
| Analytics | Simple understanding | Numerous efficacy, streamlined methods. |
High Website performance:
For any website, Speed is a condition to perform. If; there is any delay to website load by less than 2 seconds. Undoubtedly there will be a higher bounce rate on the website the business owners will be witnessing.
Using HubSpot content optimization system is fruitful because the page performance tracker; is built into the product itself. So, it is easy for business owners to track their performance without any hassle.
Add on to that, HubSpot CMS efficiently manages the speed optimization itself. So, the business owners do not need to think about the slow performances.
Whereas in WordPress. Additionally, software in plugins for performance tracking; needs to be installed.
Unfortunately, the efficiency of speed optimization is not built-in WordPress itself. But the CMS developers can install the plugin to get more flexible speed optimization without any hindrance.
Prohibitive Comfort in maintenance:
To outsmart the competition and deliver the right content. To the customer is a prominent; thing while building a website. Like Standard things, a website also needs regular maintenances and timely updates to make sure it is orchestrating smoothly. The website needs to be optimized because it should be hassle-free to indexable for SEO, have high-level privacy, top-notch security, regular software updates.
The one-stop solution for all these maintenances is HubSpot content management system, which makes it easy for the CMS developers to manage within the platform.
So, this proclaimed that using HubSpot development. The website does not; issue any trouble to the business owner as it is less prone to downtime.
And so, if there is any problem or bug in HubSpot website development, the HubSpot team will provide you with 24*7 support to resolve the issue.
Although in WordPress, all these maintenances; can be done undoubtedly. But, many of the elements needed third-party plug-ins to achieve a specific job.
Ultimately this makes us realize the developers need to regularly check in and tunes up the updates from different plug-ins.
If there are any issues in WordPress, the business owners need to engage constantly with the developers to resolve and fix them, which is time-consuming too.
Ultimate security:
Many business owners prefer to have a secured and safe website. Developers need to look into SSL protection provided, 24*7 risk monitoring, implementing IDS-intrusion detection system for the safety of activity logging is the majority of business owners expect from the in-house employee to set up by themselves without any hassle.
Comfortably, HubSpot manages to fill all these assured features as a one-stop solution for the developers.
WordPress developers need to integrate all the features with another third-party provider. Or from their hosting provider itself.
Risks are also high because third-party companies are in the open-source community. They never promised to keep their core software and update; same. Every time years pass, websites built on WordPress will also grow accordingly. So, more plugins and software; which are safe cause a high risk for the WordPress developers and business owners.
The verdict is with high efficiency. Both the platforms are outstanding. But, in terms of security, there is a difference between using third-party plugins and in-built security features that is phenomenal.
Improvised SEO and Analytics execution:
With many updates setting up SEO is competitive nowadays. So, understanding the complexity and focusing more on SEO will boost the website without any doubt.
Undoubtedly, HubSpot analytics software and HubSpot analytics tool keep it under a structured way to perform on-page optimization.
Using HubSpot SEO tools provides a streamlined SEO process that takes it to another level. HubSpot content optimization system. Offers; reliable marketing improvement standards. Such as its traffic analytics tool and contact analytics tool.
But WordPress again relays the SEO practice by integrating plugins and third-party tools. Some companies prefer WordPress development services to build their entire SEO practices like RankMath and YostSEO.
Although, HubSpot CMS offers plugins for sales and marketing analytics. Where WordPress users can avail the plugins. It is all about preferences. Without comparison choosing the best CMS development service will help achieve a great website.
HubSpot CMS Vs WordPress: Conclusion
WordPress is a first and foremost CMS. Whereas HubSpot has more in-built features. Small scale organizations, bloggers, entrepreneurs can use WordPress development services without hassle. Because; At some point. They do not need more plugins that help them maintain and perform the website without any hindrance.
B2B companies that are in developing states have marketing and sales team. They can opt to launch a website with HubSpot as it has many in-built features. As the business owner opt for Lead generation and building a successful business with the help of digital marketers choosing HubSpot CMS is a perfect option without any doubt. It is all about preferences and personalization for your business.
Wrapping it up
Talk; with us to grow your company with WordPress and HubSpot development services. G2TechSoft helps you to scale your business to the next level. As G2TechSoft has an expert content management system, hire a HubSpot web developer or WordPress developer. If you are still confused? How G2TechSoft helps the customer with the best CMS development services. You can find by clicking the link how Awesome CMS development company G2TechSoft is.