Drive more sales & customer experience in retail with headless commerce- Magento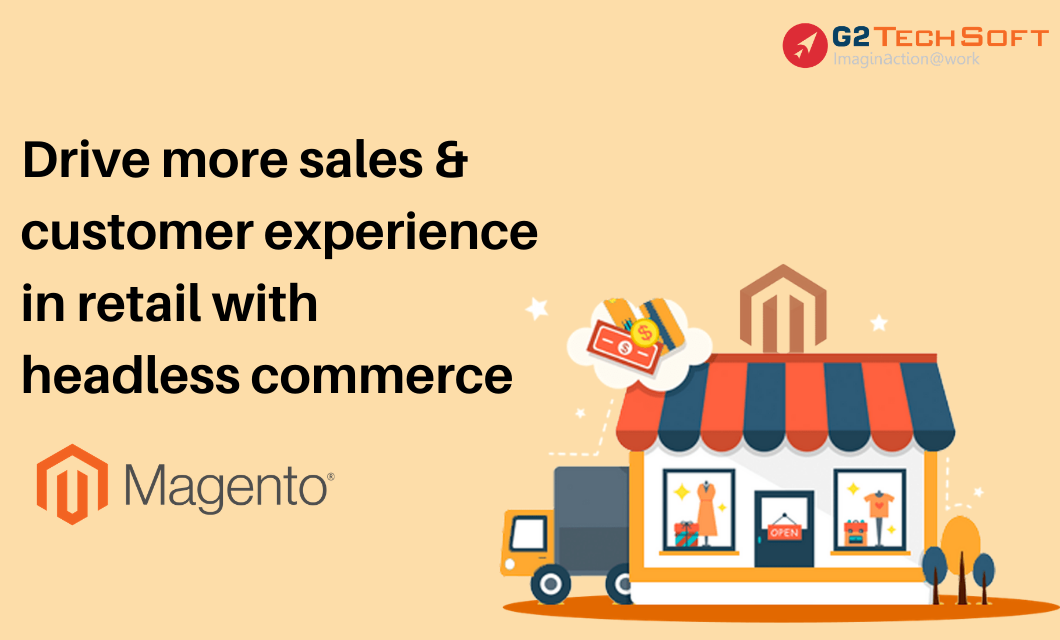 Knowing the arrangement of decoupled front end and back end systems in the Headless Architecture, it would be exciting to get what are all the advantages retailers can take off by implementing this in their eCommerce website design and development.
Wide Range Flexibility
As an open architecture, it opens many grounds for designers and developers to use advanced technologies like CMS or PWA or others to work upon the front end UI constantly to meet up customers' expectations (which changes frequently) with backend processes running smoothly unaffected as Headless commerce benefits.
Customization Strength
Headless eCommerce architecture gives complete control of the site architecture to retailers by letting them decide which system to experiment with to produce customer-engaging website features. For a decoupled architecture, it would be easy to modify and personalize the backend system based on the ongoing search pattern and behavior of customers on the front end.
Costs Reduction
Operational cost for an eCommerce website based on Headless architecture is ultimately lowered or reduced with genuine traffic on websites through improved content and customer experience by continuous analyzing and alterations in existing UI and business logic layers without performance slowdown. This also saves costs of paid advertisements.
Speed in Performance
While adding new integrations to the front-end system in an open architecture, it is easy to execute in Headless architecture and thus saves much time for developers providing engaging and interactive websites quickly to attract more customers.
High-Level Scalability
Whether on the front end or back end, scalability is high as these systems are decoupled. This level of agility is absent in the traditional architecture and there was nothing to improve as on a built website.
Ruling Conversion Rates
As already mentioned, online traffic on Headless commerce website is organic as the content layer and backend rules are synchronized with the customer demands based on search patterns and ways. Thus, a retailer is a beneficiary of high conversion rates with Magento Headless commerce.
The above-discussed benefits of Headless commerce are self-explanatory to the importance of this Magento headless architecture and headless commerce platforms in the current time.
And, Headless architecture is suitable for your business?
For businesses involving CMS and desiring to enhance eCommerce deliveries should go for Magento 2.0 for successful outputs. Even big enterprises, with expertise in marketing with multiple brands, divisions having rich content can take advantage of Headless via Magento eCommerce Cloud by offering full site control to owners via Magento Cloud architecture to personalize their websites maximum with wide Magento enterprise support. Magento 2 Commerce Cloud is highly supportive of headless commerce Magento architecture and headless eCommerce solutions with smart Magento Commerce Cloud features.
Decoupled front end and backend systems in Headless signs to constant evolutions in digital retailing or eCommerce with instant integrations, developments, and functionalities in which Magento Headless API can aid well with developing highly engaging, user-friendly websites and delivering big conversion rates.
So, Headless architecture is a flexible medium of turning existing eCommerce websites whether aspiring or experienced should choose Headless to drive an excellency in the sales customer experience on the cloud with Magento Commerce Cloud architecture and other platforms.
What's next- Magento PWA Studio!
Retail digital transformation contributes to remarkable business sales for an enterprise than traditional commerce. So, many retailers are involved in delivering their services via eCommerce stores and channels. With such wide sharing of space in online retailing with many competitors, a retailer requires his website to stand out by adding flexibility in their existing customer experience on the eCommerce platform to engage customers who are more cautious than ever and visits multiple stores to be satisfied in purchasing even a single product.
Such an intelligent, selective and wide group of customers is difficult to please and the traditional eCommerce platform architecture is not compensatory. Certain flexibility in traditional Commerce to meet customers' current requirements on time is the main requirement to keep business running for a long time. In that case, a new architecture design could be the solution.
Headless eCommerce is a not-so-new concept and already in use by many big retailers today (for more than 2 years). Magento has already claimed it to be the game-changer for all retail businesses in the coming years soon as it will potentially replace the custom eCommerce platform architecture having mingled or coupled front end and back end systems to the new advanced and flexible Headless Architecture for Magento eCommerce store development. It is the hot topic of today for many retailers running their digital businesses on the eCommerce platform.
Know about Headless Architecture Magento
Magento Headless Architecture holds the decoupled front end and the back end of an eCommerce website. It means the front end which includes the User Interface or the content presentation layer and the back end which includes business logic and a functional layer or eCommerce integration, stack, and management are not interconnected directly but separated. Both the front end and back end of the eCommerce website communicate via an API for delivering an Omnichannel retail experience. Unlike traditional architecture where any action on a system (front end or back end) affects the whole architecture collectively and causes time, and money wastage, this new Headless architecture allows working on a system without affecting the other like developers can create a new web environment via adding a new eCommerce module to the existing one while the front layer is separated by an API.
Similarly, multiple front-end presentations can be experimented with a single backend eCommerce platform to work on all channels extensively.
Benefits for retailers using Headless Architecture with Magento
Magento PWA Studio is a recent announcement by Magento which is the next big revolution in the eCommerce industry. It is a Suite of applications for building eCommerce websites but with app-like experiences, just like PWA (Progressive Web Apps). With app-like experiences on web pages build on Headless architecture, websites would be more engaging, cost-effective, and dynamic with unique customer experiences like never before highly supportive to all channels including mobile devices. With the integration of Headless architecture with PWA, Magento tried to bring fast implementations, quick page loading, high-performance store development, and better management tools for customer-sales relationships. Magento Progressive Web App is earmarked as the most relieved experiment now for online retailers in the market for mobile-friendly and dynamic eCommerce development.
If you want to make your eCommerce website revolutionary, you are invited to G2 TechSoft eCommerce Management Services to where you can get the optimal consultations from our Magento experts and offshore software development services through our dedicated service partners with intention of smart and instant solutions to create your own eCommerce store under Magento eCommerce development projects.
Summary
Headless commerce is paving the way for the most flexible online store development and management for high-end conversion rates and more sales for retailers. Decoupling front-end and back-end systems are the strategies of the hour and with a new approach of Magento to combine this strategy to PWA for developing stores with app-like experiences is a more progressive one. So, one can say it is a constant evolution era in the eCommerce development industry and Headless stands extraordinary in the race of Tradition commerce vs. Headless commerce.