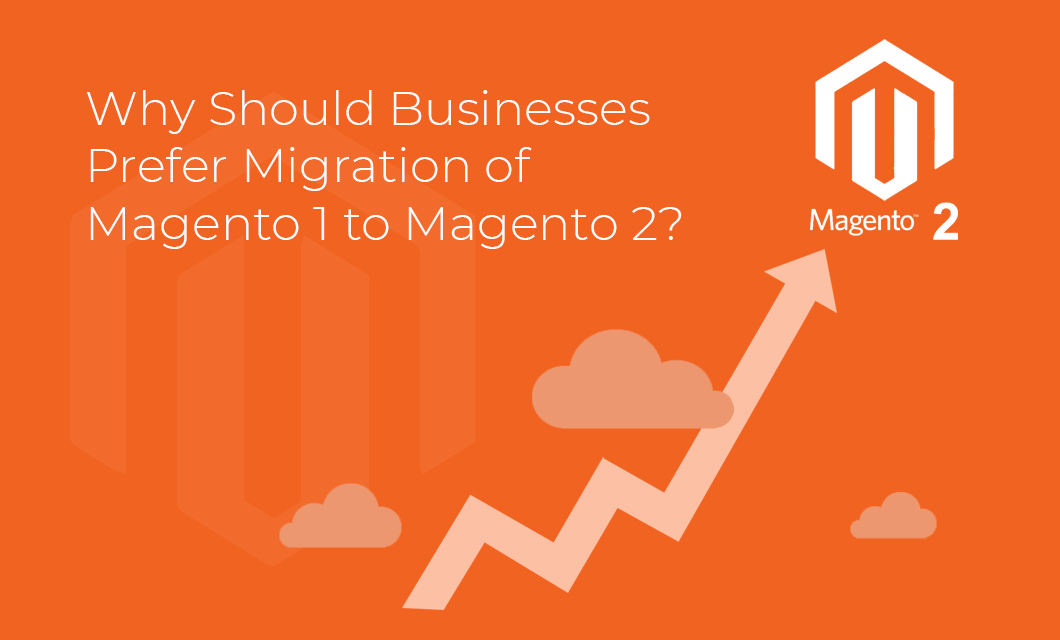 We are not here to worry you….but if your online ecommerce platform is still running on Magento 1, you are at a high risk of using a software platform that is dated and not supported by Magento Representatives themselves. If you are on this page, it must be because your Magento eCommerce platform is facing issues. Inefficient performance, low load speed, high maintenance cost, lack of an integrated payment gateway, and unsafe design are few to name. This is inevitable because Magento has stopped releasing updates and security patches for its 1.0 version. This also indicates that your ecommerce website is vulnerable to cyber-attacks and malware intrusion.
Read this blog to learn what you should do if you are an existing Magento 1.0 user.
Magento 1 to 2 Migration – Are You Worried??
There are over 1 85, 160 Magento stores. But only 62 384 have migrated Magento 1.0 to Magento 2.0. The rest are either unsure what to do or have switched to some other ecommerce website development platform. If you are still operating on Magento 1, you have to quickly decide between Magento 2 migration and a new CMS altogether.
While Magento is the best way to make eCommerce websites, as an enterprise, you will still have a lot of questions running in your mind, like 'how easy is Magento migration from version 1.0 to version 2.0?', 'which is the best eCommerce platform if not Magento 1?', 'why should I consider Magento 2 migration?', or 'what are the benefits of Magento eCommerce design and development?'.
Rest assured, we have the answers to all your questions. We will also discuss a few essential things for clarity, such as the benefits of eCommerce website using Magento technology and things to consider before migrating to Magento 2.
Why Must eCommerce Platforms Consider Magento 1 to Magento 2 Migration?
The brilliant Magento 2 for ecommerce development was launched in 2015. Yet, Magento developers have continued to support the older version unrelentingly. But they have decided to stop supporting Magento 1, wrap it up completely, and boost the features and security features of Magento 2. Therefore, Magento 1 is soon to cease existence. What would remain will be a dated platform running at several security and compliance risks?
Two Key Reasons that Affect Online Stores Running on Magento 1
Magento Developers Officially Announced the End Date
In 2019, the developers of the platform had announced ceasing support of Magento 1 from June 2020. As of now, there are no new security updates, plugins, and modules.
Security measures have a direct impact on the success of the ecommerce website as online stores are loaded with customer data, including credit card details and personal information. With no security patch updates releasing from the developers, you are putting your business and customer at high risk.
Migration from one CMS to another CMS is a multifaceted and complicated practice. While Magento to Magento migration can simplify the process by a certain percentage, it still remains time consuming.
We suggest you to plan the change and consult a certified Magento development company. Without the shift, you will not only be out of the rat race, but also miss out on the best concepts, trends, and tools needed for a progressive online ecommerce platform.
Benefits of Custom Magento Development – Why Choose Magento 2 Over Other CMS?
More than 50% of ecommerce sites, including Amazon, have chosen Magento 2 over other CMS platforms. Magento 2 eCommerce development offers a number of advantages for businesses, besides being the only platform that was solely established to cater to all eCommerce needs.
It is Meant for eCommerce Customers
Magento 2 offers all shortcuts for online shopping that millennial customers love to use. These include instant purchases, multiple checkout options, several instant buttons that quickly lead customers to desired pages, social sharing, multiple payment gateways, and payment methods, shortened registration processes, and you name it.
Perfect for Mobile Shopping
Magento development services are loaded with versatile options for mobile shoppers. This is because 90% of sales take place via mobile shopping. From mobile-friendly websites to progressive web applications, Magento 2 prototypes are responsive by default, which results in better onsite search, enhanced designs, 50% faster load time, and 70% faster mobile-optimized payment options (instant OTP filling).
eCommerce stores drive on good to great design and nothing less than it. Design is the core of online stores as it directly influences customer decision making. Magento 2 offers simplified guest checkouts, lovely onsite filters, responsive screens, smart custom options, and satisfying payment modes, making the websites consumer's top choice.
Other Advantages for Your Business in Migration of Magento 1 to 2
Magento 2 is developed for high conversions. Your website will not fail at any cost.
Magento can hold up to 40% more customers per hour than Magento 1
The platform's latest versions offer advanced performance analysis and reporting on critical business metrics. You can generate up to 20 online reports.
Magento development services make third-party integration uncomplicated
The integrated Dotmailer option in Magento 2 allows the creation of automated ad campaigns for emails, social media, SMS, push notifications, etc.
Provides two hosting options: Self and PaaS
Difficulties in Migration from Magento 1.0 to Magento 2.0
Despite being the best technology for eCommerce website development, platform migration is not a simple affair. Even a basic website migration involves several steps, let alone a compact, multi-module eCommerce store. Magento certified developers can easily understand the new architecture and database design and plan the migration without compromising the store uptime and customer experience.
Our experienced Magento ecommerce developers can provide end-to-end migration and support, including real-time data backup in the cloud, extension migration, and theme migration.
Roadmap for Migrating to Magento 2
Several crucial changes will take place during the migration. You will be working with a completely new, but better API. There will be changes in themes, design, and structure of the database. To avoid data loss or website downtime, you need an expert who can manage the migration optimally.
From your side, you must consider the following plan for a perfect and seamless Magento 2 Migration:
You cannot implement Magento migration without proper planning. Hire an expert Magento 2 migration service provider and carefully derive all action plans from feature-listing, costing, phases, workflow, and completion date. You must develop both short and long migration milestones. Also, ensure that the development company and you are on the same page in this. Choose a software developer that will guarantee to use a dedicated resource team for handling your project.
Reconsider and Analyze Website Functionalities
Website migration poses a perfect opportunity to redefine the functionalities of your current ecommerce site. Get ready to analyze your existing functions to remove redundancies with the help of Magento extension development. Magento 2 is packed with many native features, which eliminates the need to integrate 3rd party extensions.
This is also the right time to improve coding. Therefore, if you find any code used less, let your Magento developer either remove it completely or trim it based on the scope. This will save your time and money on unnecessary code updates.
Consider Upgrading Your Website
Migration to Magento 2 is a vast process step, as we have already established. It is almost like developing a new website. Therefore, use this time to upgrade your website into a brand new online store at a lower cost. Take digital marketing, online growth, and ecommerce store management into account when planning the upgrades.
Consider Replacing your Third-Party Extensions
The migration will change the architecture completely. As a result, specific Magento 1 extensions may not perform effectively in the Magento 2 architecture. If your Magento 1 website consists of extensions that are crucial but not native to Magento 2, consider replacing them.
Custom Magento development helps custom extension and code migration, besides recreation of extension of a particular functionality in version 2. Discuss this with your Magento expert when developing the project scope. They may come up with a better solution that will further minimize your migration cost.
Plan SEO Optimization and Technical Upgrades
Your website must be SEO optimized in order to improve your product content's visibility and maintain SERP ranking. But since the architecture is changing, you must run through an SEO factor checklist to make your website digital marketing ready. The checklist must contain the following elements:
Product meta and alt tags
Page meta descriptions
Title tags prefixes and suffixes
Optimized keywords
SEO-friendly URLs
Optimized media files (images and videos)
Canonical tags for products and their categories
Appropriate utilization of microdata or rich snippets
Optimized internal links
Correct URL path category
While 80% of the migration can be completed via automated tools, certain elements, such as media files, storefront designs, access controls, and admin and user accounts, have to be migrated to the new architecture manually.
With your cooperation, a dedicated professional team will be able to handle the manual migration effortlessly.
Quality Analysis and Performance Testing
Despite perfect planning and deploying, performance issues in a new platform like Magento 2.0 is common during and after migration. However, hiring a Magento ecommerce web development company that follows an agile methodology will ensure concurrent testing to troubleshoot performance issues.
In conclusion, Magento 2 provides several attractive benefits for the customers and the eCommerce provider, all of which result in increased sales and customer retention. It is also a better choice for CMS to shift from Magento 1 platform. If you want a detailed estimation for your eCommerce website migration from 1 to 2, talk to our Magento expert.