WordPress 5.6: Now Create a Web and Mobile site for your Business!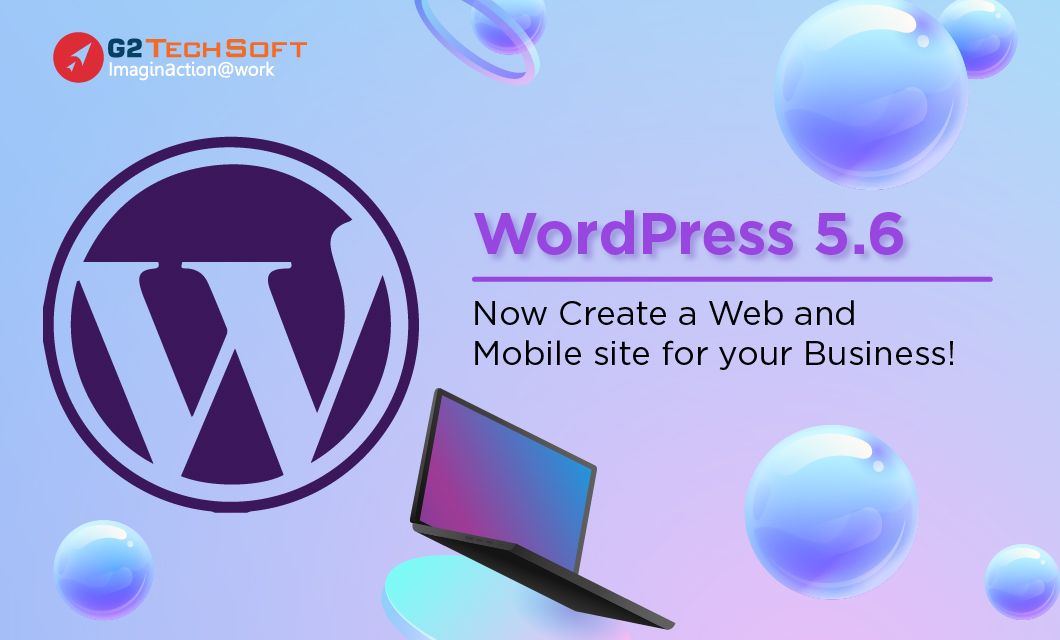 What's New in WordPress? Get ready to know about WordPress 5.6
WordPress 5.6 is the most awaited release of the year. In its development cycle, multiple beta testing versions are released from time to time and release candidates are launched before the actual release to eliminate any chances of errors with millions of WordPress security plugins and themes.
After Beta 1 to Beta 4 version release for WordPress 5.6 from 24 October to 12 November, the recent release is the Release Candidate 1 (on 1 December) and then after one more launch of RC2 (on 7 December,) dry run for WordPress 5.6 release, the wait would be over and WordPress 5.6 would be circulated for use. So, there are two crucial dates to save for enthusiasts now.
Release Candidate 2 (RC2) – On 7th December 2020
Actual Release – On 8th December 2020
The new version is definitely full of improvements; include new features, and sorted out WordPress security issues by fixing earlier bugs and errors.
Exclusive features in WordPress 5.6
Let us find out the significant features which users and developers are going to experience in the latest WordPress 5.6 version.
Now automatic updates for major releases too: The new version authorized WordPress 5.6 administrators to enable automatic updates for major core releases manually for existing installations while it is enabled by default for new installations. After enabling automatic updates for major releases, it can be switched to updates for maintenance and security release updates only.
Exclusive support for PHP 8: Support of the latest released PHP 8.0 in WordPress for developers maintaining backward compatibility of all PHP versions till now.
Inclusion of new features in block editor: New editing experience with newly integrated features as listed below.

Video blocks support to video subtitles
Background pattern display by cover blocks
Image size controller for text and media blocks
Block supports API for developers to add new features to blocks

Introduction of a new default theme in WordPress: The new default theme in WordPress is Twenty Twenty-One, a custom design WordPress with a single column layout and a footer sidebar and designed with minimum color pallet and system font stack.
Facility of Application Passwords: For WordPress security, application passwords can be generated manually or through REST API in WordPress for authentication requirements through multiple WordPress APIs.
Plugins in making web and mobile-ready site
Plugins like WordPress site maintenance plugin, WordPress security plugins, or WordPress performance plugin are helpful in site management, and choosing the best security plugin for WordPress is the crucial task. The new Gutenberg plugin (9.4) with enhanced Full Site Editing flows introduces an interactive web design by WordPress for a rich web and mobile site experience.
The support of PHP 8 in the new release of WordPress is in the developmental phase as its full integration is still not expected to complete by the release date. The core team is prepared for PHP 8 support with its minimum required version of PHP and it leaves it up to the plugins or theme developers to choose PHP 8 as the new upgrade. There is a scope of elimination of support to older versions of PHP in the future.
Improvements in New WordPress
The new WordPress 5.6 holds a bundle of improvements in comparison to the previous versions catering to a better WordPress performance.
Bugs and Error Fixing: Fixation of multiple bugs in the block editor along with correction of URL slashes with the empty parent in REST API in WordPress to speed up WordPress website performance.
Disapproved Facebook and Instagram Embeds: The latest version will not include embeds requested from Classic Editor and Gutenberg before to fetch content from Facebook and Instagram.
Improvements in Block Editor: With the introduction of new versions of Gutenberg with improved features, web editing (such as to create a WordPress page) is more enhanced and easier now. The enhancements like better UI, drag-drop, keyboard navigation, conversion of multiple-segmented blocks into one column block, tool bar components enhancement, increase in word counts on info-panel are note-worthy to both host on WordPress and developers.
Enhanced Site Health Tool: The new version has improved the Site Health tool that now will check data validation through validators for issues responses by tests and find out the invalid responses quickly.
Accessibility Improvements: New Application password system to secure WordPress hosting that allows WordPress website access only after approving authentication requests through generated passwords to WordPress APIs.
Why do you need to upgrade to WordPress 5.6?
The need to upgrade to WordPress 5.6 lies in the fact that it integrates multiple features and enhancements like PHP 8 support, new default theme, App passwords, automatic updates for major releases, improved block editor, fixed bugs and glitches, Site Health tool, etc. favorable to build a site with WordPress efficiently.
Get ready to create web and mobile site for your business with new WordPress releasing shortly. Till then it is suggested to test the WordPress 5.6 RC 2 by adding the WordPress Beta Tester plugin to your installation or by downloading the beta zip from WordPress directly.
If you want to exploit the latest WordPress release to build a site with WordPress (mobile and web) for your business, then you can join hands with the most reliable WordPress development company – G2 TechSoft. It is a hub for expert web development services through skilled professional web developers in WordPress for your business.
Looking for a solution that gives you the power of scaling and uniformity. We sorted it well for you via our instant approach, reliable technology, and art-of-state quality.