Outsourcing eCommerce Development for your eCommerce Business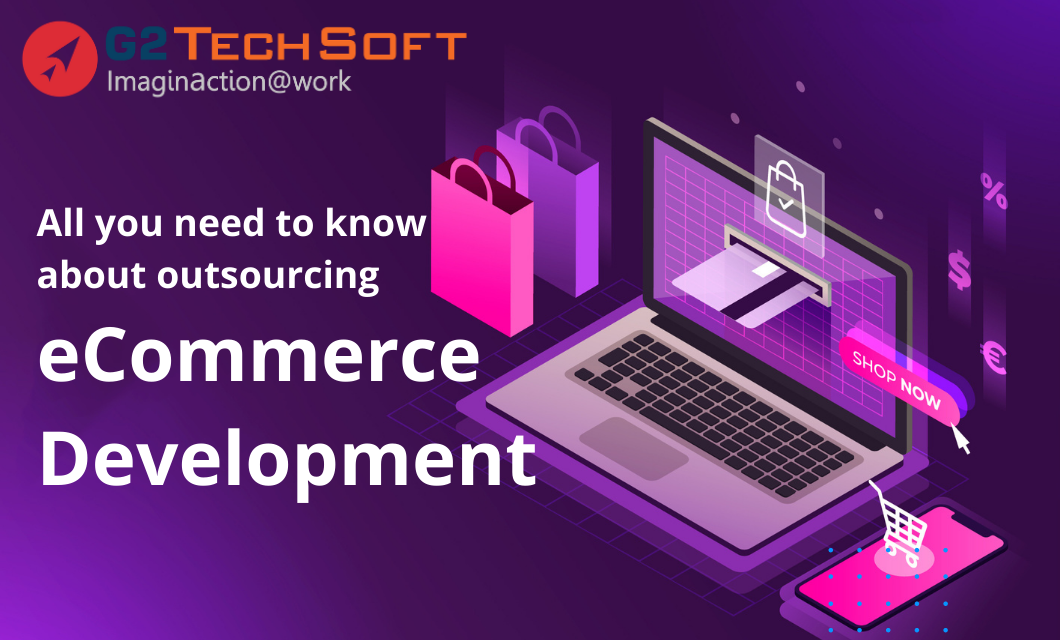 In the last decade, eCommerce has grown a lot, and it has taken a hike in the world economy. From Amazon, eBay, to Alibaba, and many larger online retailers as well as small local market players have seen a huge change in their turnovers and incomes. According to the Mordor Intelligence market report, the digital commerce software market was valued at USD 5733.44 million in 2019. Also, it is expected to reach a market value of USD 10397.24 million by 2025. Interesting, isn't it?
If you are an eCommerce business owner, then you might know that there comes a point in your company's life cycle when you start getting confused about outsourcing eCommerce development or do everything in-house. By outsourcing eCommerce store development, you handover your company's work to professionals who have great knowledge as well as extensive expertise to provide custom web application development.
Why should you prefer outsourcing?
An eCommerce online store business needs a website and mobile apps to grow. Nowadays, there are so many options to get a wide set of features and customization to make your eCommerce business website with eCommerce platforms such as Shopify, Magento, and many more.
Outsourcing eCommerce website development seems to be a good idea because it has so many benefits that we will discuss next in this blog. You need to outsource eCommerce development work to an outsourcing website development company that can help you develop your eCommerce business and make your online presence on the internet truly viable. You need to hire a developer to turn your business goals into real-time online store web designs to make your business grow.
While there are certain benefits to keep control over every part of your business, you might be hurting your sales due to lack of time. The reality is managing everything in-house can be daunting sometimes, and you can outsource your eCommerce web development to shift your focus from in-house management to drive more sales and traffic to your online store website.
Today, we will discuss the benefits of outsourcing eCommerce website development to an offshore software outsourcing company.
Here are a few pros of outsourcing eCommerce development:
1. Save Your Valuable Money
You can save your money by outsourcing your eCommerce web development projects to companies that provide cost-effective outsource web development services. You won't need to pay for extra office space for an in-house team of developers or maintaining a separate place, internet services, in-store business, and other things that you need to have an in-house team.
When you outsource your development to another company, they work remotely and provide you every detail virtually. You will get services without any hidden cost, and you can also save yourself from paying for any high-cost tools.
Without outsourcing, you need to manage every task, but when you outsource, the company assigns you a project manager who will manage every task for you.
2. Save your Golden Time
You can use your time in another part of business instead of wasting in managing in-house tasks with developers. Afterall — TIME IS MONEY. When you outsource your development tasks you save you as well as your employees' time to work in other important areas of your business.
You can focus on your customer reach, outreach, growth, and many other tasks that will help you to grow your brand's influence. You will see a boost in your employees' productivity when you let them do what they are supposed to do instead of extra tasks.
3. Enjoy Flexible Hiring Process
There comes a time in every eCommerce business when you need help from others in different short-term projects, and you might not want to hire a team permanently for those short-term projects as eventually, those requirements are not permanent. In that case, you can surely opt to hire outsourcing companies to help you in those short-term tasks.
You can easily hire a team for seasonal work to help you complete important tasks on time. Startups or mid-size companies often need outside help due to lack of in-house support, and outsourcing can be the best solution for those times.
4. Exposure to Large talent Pool
You will get access to diversity and can find the right fit for your task from a large talent pool. You can hire as many developers you want from a big team of expert developers of outsourcing companies. You can hire many as many developers as you want to complete your task as early as possible, instead of waiting for a long time due to fewer in-house developers.
When you outsource, you get exposure to a large pool of talented developers where you can easily pick the person whom you find the right fit to help you to grow your eCommerce business.
5. Stay Competitive
Outsourcing helps you to complete your other tasks on time and stay up to date with market competition. Staying in the competition isn't easy while managing an eCommerce business. You need to work hard and give more time to accomplish the bare minimum quota of required work. Outsource your eCommerce development work to focus more on the market and grow by being in competition.
6. Make More Money
Who doesn't want to earn more money in a business? After all, everyone is doing business to earn more every day, so do you. But in the eCommerce market, you need to spend first to make more money. Ultimately, you need more time to work better. You will need to spend money on hosting, domain, products, employees, marketing, PRs, advertising, and in many other small areas to run an eCommerce business.
Outsourcing helps you to expand your business and take new projects without spending more on recruiting new employees or tools. This allows you to increase your ROI of your business and spend more time growing your business.
Why should you outsource your eCommerce web development work to G2?
eCommerce is regularly evolving, and competition in the global marketplace is constantly increasing, which means companies need to create innovative products with interactive web design to provide a seamless customer experience in order to succeed in the business. G2 can help you in eCommerce development with their years of expertise. You can save your time and money by outsourcing your eCommerce development projects to G2.
We offer dedicated developers for your eCommerce related requirements. Our developers can also help you add omnichannel features in your eCommerce online store as well. Nowadays, omnichannel experience is helping eCommerce businesses grow rapidly. Our developer team has extensive experience in eCommerce website development and can help you with all the technical aspects of web development.
Omnichannel will help you to drive more sales and traffic to your eCommerce store and also integrate digital touchpoints. It's a great retail strategy to improve customers' experience and increase the purchase rate. We can help you with your eCommerce business journey.
eCommerce has become complex and complicated lately, and the consumption rate has become extremely picky and knowledgeable. eCommerce has gone global, and marketing has become fragmented, and competition is fiercer than ever. You can no longer grow with just TV advertisements. You need to do more because, with the rise of the internet, global trade, Social Media, and technology, people have become aware and expect more from a brand.
If you want to grow, then try outsourcing your eCommerce development work to spend more time on the advertisement and other areas of eCommerce business to keep your brand name in the competition. Operating your eCommerce business will become easy when you opt for eCommerce and software outsourcing services. On that note, be sure to reach out to G2 to any kind of eCommerce business development; we would be happy to assist you with our outsourcing services.