Shopify Vs Magento Vs WooCommerce- Which is best for eCommerce store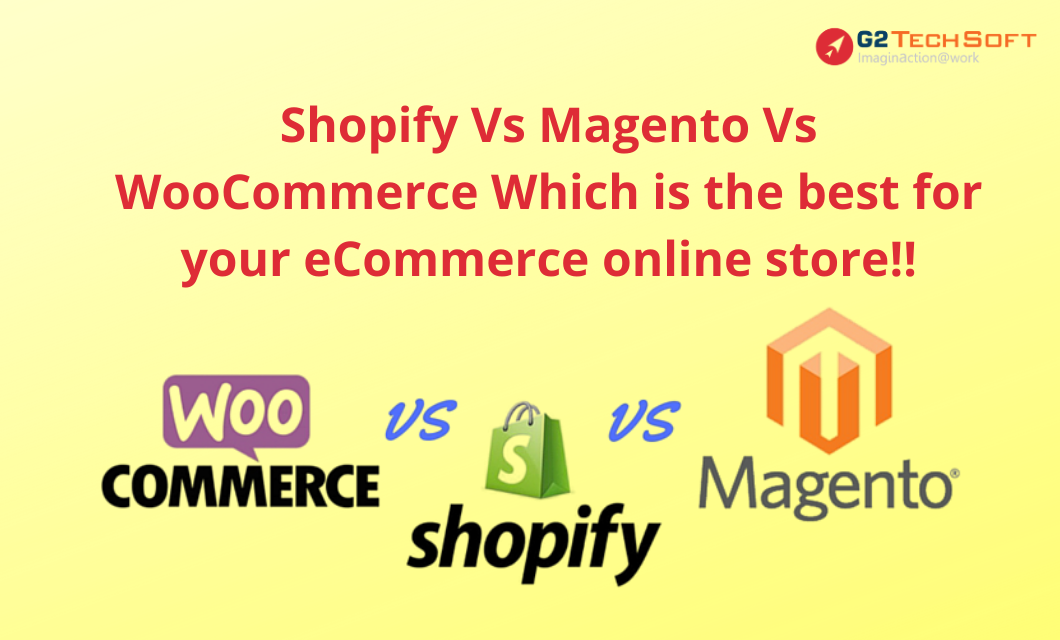 Ecommerce solutions are categorically the backbone of many businesses today. An online eCommerce store for product marketing and sales is considered the best way to earn business advantages. The value of retail and eCommerce platforms has soared vastly in the current pandemic situation.
If you are also willing to launch an eCommerce store, the most vital decision to make is choosing the best eCommerce platform. We hope you are known to the top three eCommerce online platforms – Shopify, Magento, and WooCommerce in the eCommerce industry. All these are in the top positions running more than 2.5 billion online stores collectively, due to its business-driven features, best eCommerce website design, and robust advantages. It is a challenging task to choose from the top eCommerce stores but this blog, with the "Shopify Vs Magento Vs WooCommerce" comparison based on multiple aspects, can help in choosing the right platform to build eCommerce website. Before comparing these three stores, let us know about the key features that make them popular.
Reasons why people should choose Shopify for ecommerce
Shopify is a simplified, all-in-one eCommerce platform with an included hosting provider and software installation set up for creating interactive eCommerce stores to handle large orders on a single dashboard. Shopify eCommerce store includes standard integrations – Google Analytics and Amazon for smart and convenient purchases. Collect the following reasons to choose the Shopify eCommerce store.
Simplified, user-friendly setup process with simple tools, best eCommerce website design, and features like drag-drop action.
Shopify stores are hosted shopping carts with the provision of complete web coding controls (CSS & HTML).
Integration of a free-trial of about 14 days for merchants
Shopify online store is mobile-friendly with complete features' access and extended displays.
Rich, full time (24*7) customer support using emails, live chat, online forum, and phone.
Shopify eCommerce development is SEO-optimized with the provision of ALT tags for images, page URLs, title tags, meta-descriptions, image file names, etc.
Builds a dynamic eCommerce online store with investment in Shopify plugin development
Adds Amazon as a sales channel to sell products via Shopify Admin panel.
Magento eCommerce platform is a powerful and flexible online store platform business. It is an open-source platform and includes an extended plug-in architecture best for tech-savvy owners providing them limitless chances under the Magento eCommerce development. Know how Magento development can suit your business requirements.
Magneto eCommerce store development suited for corporate, medium to large scale businesses. Magento eCommerce pricing includes 2 editions – Community version (Free, requires a domain name and hosting), Enterprise version (Paid for advanced features, including hosting).
Magento-based application is fully secured with advanced security patches and fixes.
Most flexible platform with a varied number of coupon codes, extensions, and prices.
Under Magento eCommerce store development, the developer can extend functions and include custom features with code controls.
Highest SEO-optimization in Magneto development – canonical tags for categories and products, meta tags for products and home pages, images optimization, edits of robot.txt files, etc.
Single Admin panel for management of multiple Magento eCommerce online stores.
Built-in wish list and an unlimited number of attributes.
WooCommerce eCommerce platforms are open-source, free – WordPress plugin requires hosting to create an online store and a WordPress website best suited for WebPress users. This is the most flexible eCommerce platform. We have collected many good reasons for choosing the WooCommerce online store platform.
Nil initial investment cost with a completely free platform. Though domain name and hosting is needed.
Availability of unlimited product plugins and extensions.
Allows integrating Google Analytics as a separate plugin.
Highly user-friendly platform for online store development.
Excellent SEO-optimization owing to WordPress integration.
Specifically-designed, superior themes with unlimited templates available on the web.
Let's have a comparison view on Shopify Vs Magento Vs WooCommerce for your online store
Check out this comparison table for the three top eCommerce platforms –WooCommerce Vs Magento Vs Shopify and get clear all your related queries.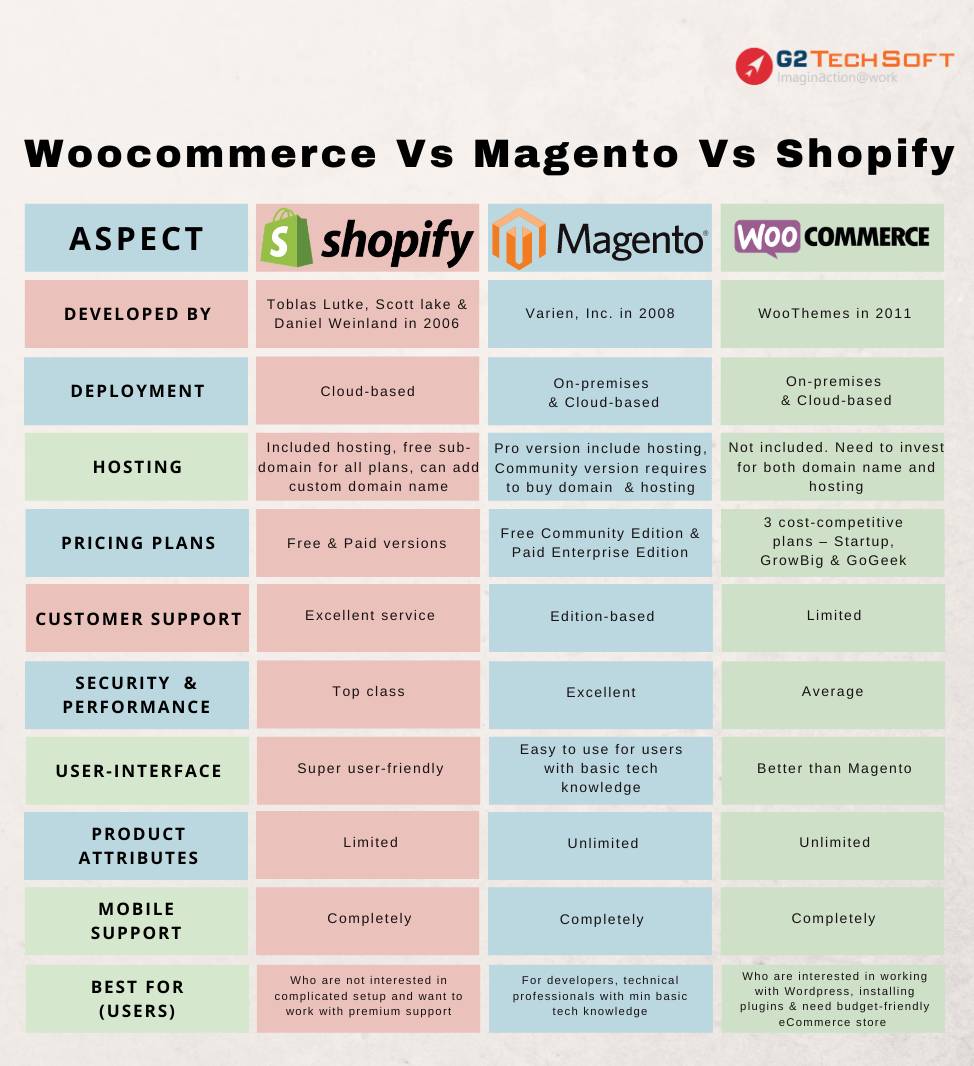 In Shopify eCommerce development, users get an in-built sub-domain and included hosting for all plans and versions; for Magento, the Premium version is included with hosting while for the Enterprise version, domain name along with hosting is required; WooCommerce is a free-plugin but the investment is need for hosting and domain name.
Magento pricing plans varied on the business scales Premium version for large scale businesses is costly and the Community version for small scale businesses is free to use. WooCommerce is highly cost-effective as a free plugin and with a plugin extension price of $29 only. Shopify included a free trial for 14 days and then rate plans depending on business needs.
Online store WooCommerce customer support service is not so impressive but uses can use support ticket and channel queries on WooCommerce support. Magento eCommerce store support service is for technocrats and not for regular users, thus limited. Shopify includes all means of communication – chat, emails, phone, etc. to deliver excellent customer support services for all users.
Shopify is the top security provider platform in the market. WooCommerce lacks perfection and vulnerable to certain online issues. Magento has improved security features like password encryption, cross-site scripting, captcha, etc.
Magento interface is designed for professional & basic tech knowledge users; Shopify includes a simple, user-friendly, interactive user-interface while WooCommerce struggles with the store configuration process despite being the most flexible eCommerce platform.
Shopify includes limited product attributes (3 by default) with specific size, color, and material; Magento includes customized designs, templates, and detailed content, WooCommerce includes variable attributes with unlimited plugins.
Shopify platform is the best for all scale businesses who want a simple design and GUI; WooCommerce platform is best suited to users who need budget-friendly store development; Magento for business making professionals and developers.
Shopify Vs Magento Vs WooCommerce- Which is best for your eCommerce online store?
After comparison, we have acquired knowledge about the valuable aspects needed before choosing a platform to develop and then launch an eCommerce store.
You can choose the WooCommerce platform for its superior usability to Magento and higher flexibility (with inclusive plug-ins, unlimited attributes) than Shopify. Magento platform can be preferred over WooCommerce for its robust features meant for big businesses, superior performance, and unlimited attributes (feature flexibility) over Shopify. Shopify would be a great choice for powerful SEO services, advanced built-in (hosting), impressive Customer support than WooCommerce and Magento.
Shopify eCommerce platform is for users demanding simple GUI, with limited technical skills, Magento eCommerce online store is meant for technical users who are ready to invest and launch an enterprise store while WooCommerce eCommerce is for beginners who want to learn and experience with budget-friendly investments.
So, choosing the best eCommerce platform for your business is solely depends on the current business requirement and desired aspects to build eCommerce website.
Each platform has its Pros and Cons. The best-suited platform can be confirmed by analyzing the feasibility and demands of the business.All platforms are largely popular with their continuous efforts in releasing new improved versions.Decide on the eCommerce platform – Shopify, Magento, or WooCommerce to create an online store. Choose the best eCommerce development company to outsource the development servicesWe recommend deploying G2TechSoft eCommerce solutions for seamless eCommerce store development.
Based upon your business requirements, our technical experts at G2TechSoft will be guiding you in building your online store. Get complete assistance and excellent eCommerce services in store development with 24*7 technical support. Now let's have a call with our experts. Connect Now!