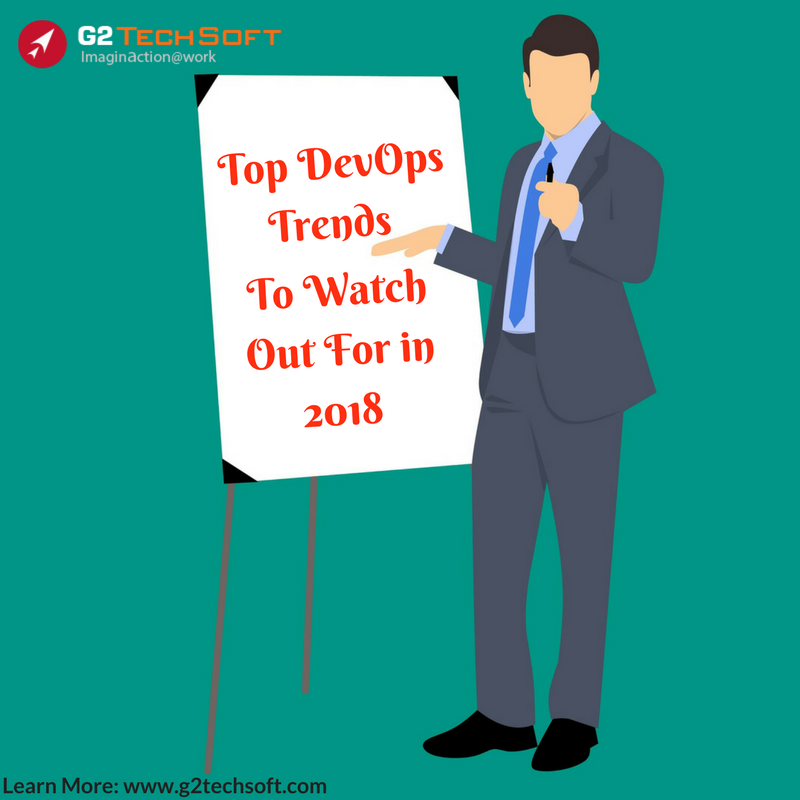 DevOps gets a new outlook this 2018. It would be more appropriate to say that this year is all set to see an evolved, amplified version of DevOps.
DevOps CALMS down Organizations
However DevOps was defined until now, it is all set for a makeover this year. DevOps adoption is all about successful integration of all the key ingredients collectively termed as Calms. The Calms framework serves as the backbone for DevOps. It is a collection of five major ingredients, Culture, Automation, Lean, Measurement, and Sharing. All five of these components are important and organizations around the world need to get a complete engagement on all five in order to achieve success.
In-depth Enterprise DevOps
Devops has had a wide-scale adoption as organizations have recognized the DevOps principles and its impact on the IT industry. However, there has been a difference in the rate at which organizations have accepted and applied the DevOps principles. It has not gone as deep as it should be but the scenario is expected to change as large organizations have started to not just speak DevOps and accept DevOps but actually apply DevOps at a large-scale.
DevOps becomes DevSecOps
The crucial requirement behind the DevOps culture is that the two aspects, security, and compliance must go hand in hand in order to achieve success. But this doesn't mean that it is necessary to engage security personnel into the DevOps team. It is crucial to instill security rules into the habits of the entire team.
Full-fledged Serverless Technology
Serverless technology serves as a driving force in the DevOps market. This is expected to grow at a phenomenal rate along with containers and orchestration edges that are being commercialized to the point where they are being abstracted away. Serverless computing and this abstraction are the driving force behind the Function-as-a-Service market. This 2018, this market is expected to have a tremendous growth, which will continue in the following years.
Mainstream SRE
The identity of IT Ops keeps evolving with the increasing need for DevOps and continuous delivery practices. This is leading to the perpetual need for a new breed of IT professionals, the SREs (Site Reliability Engineer). The requirements for SRE role will continue to increase this year as the operations team seeks to work on their software development skills in order to collaborate effectively with developers. Another requirement for SRE is to be well-versed in Python and Ruby with configuration and capacity.
Balance to speed and stability by KPI metrics
Measurement is the most important factor that enhances the DevOps culture. The correct combination of metrics provides the essential insight into what's working with the tools and processes now and what needs to be restructured to improve the functionality.
But there is not one particular metric that indicates perfect performance. But there could still be a category of metric above the rest that can track the DevOps proficiency by showing the ability to develop and deliver software with speed and stability. It is essential to maintain a balance between both speed and stability.
Ultimate success metrics to track business impact
Organizations have come to realize that importance of not only delivering quality software faster but also to make sure that the software actually is ready to meet business goals. This year settles down to see increasing emphasis on collecting and tracking feature delivery and process improvements.
Though ROI has been the main focus, this year there is going to be an emphasis on seeking out metrics that shape the way organizations move forward to improve their software.
DevOps to Magnify Experimentation
Organizations will be able to experiment as they keep tracking their technical and business metrics. Tracking metrics offers a safe boundary for failure. This allows organizations to try new things by setting risk parameters around those experiments so that in the event of a failure the impact will be limited.
Organizations have started to embrace failure rather than worrying about preventing failure while looking for ways to limit the stakes for failure when it happens inevitably.
To know how you can adopt DevOps to achieve growth and success in your business this year.
Talk to us today to know how you can utilize DevOps culture to achieve your business goals.