Top web development tips and trends for boosting your website 2021/2022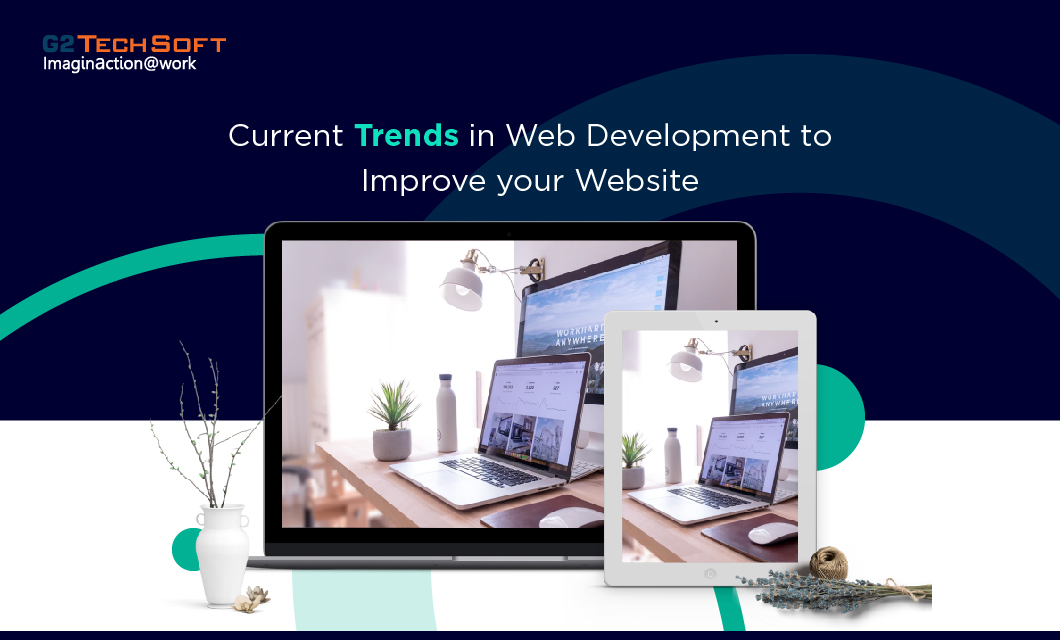 It is a matter of fact that web development is being experimented with a lot these days and concerned designers/developers are always looking up to the latest web design trends to be a part of the competition. Introduction of the AI technology, future of web development (2021), is the excellent innovation in web development that has empowered the scalability and flexibility in the cutting-edge web development for different sectors. Website design and development is focused on visitors' engagement and in such a growing eCommerce sector, the competition bar is raised high and for that, the web designers are required to up their game to survive or excel out themselves. There are some latest additions to web development trends 2021 which could be useful for higher revenues with soaring website engagement.
Latest Web Development Trends in the Market
Check out the latest web development technologies 2021 deploying which your business or web design company could get an elevated recovery or enhancement with surged up online visitors and buyers.
Single page web app trends are popular nowadays as it is responsive and approved with the quick approach by clients without any need of page navigations and convenient for developers for its light-weight along with expansion scope in future.
Blockchain Development & Technology:
It is the best web development technology in the market becoming trendy for its advanced properties like a set arranged facility with a secure and decentralized flow throughout.
Web development fueled with AI ChatBots is a smart future as it integrates automated support applications or feature with human insights for powerful communication.
Progressive Web Apps (PWA):
Progressive Web Apps is the trendy technology in 2021 that is most liked for its non-dependence towards application download which saves clients time and interest for the investment in the business.
Internet of Things (IoT):
Mobile-first design or responsive web app development with the use of IoT technology is a revolutionary and unstoppable trend in web development for the coming future.
Augmented and Virtual realities can be introduced in web development for enhancing smart clients' experience in online space and 3D technologies.
Utilizing JavaScript frameworks is the most favorite web-design framework for the year 2021 as it is the most reliable, secure, and adaptable with advanced structures.
It is a strong tool for client engagement with interactive applications, promotions, and business-related activities.
Voice search technology is the latest web development technology and client's favorite in web applications as it saves both time and effort. Therefore, it holds a strong position in the growing web app trends.
For automatic newsletter subscriptions and updates, a push notification feature is introduced on the web page which works on the client's approval is the sure short trend nowadays.
Top Web Development Tips to Enhance Your Website
Below are proposed the most useful tips for web designers and developers for highly coordinated and engaging website development.
Do adequate market research, strategize, know your customers, map down all aspects, secure your objectives and prepare an advanced, sorted web development plan.
Use the right imagery that works for your audience
Select and use the original or standard imagery of your product or service on websites with a genuine indication of the audience-oriented benefits.
Keep a convincing tone content
Web content should be drafted in a convincing as well as professional tone with valid product/service details information from a genuine or original source.
Always implement call-to-action
Call-to-action is a very important integration in websites to reach out to customers' points of view, queries and feedbacks readily. Implementing Call to actions in between the pieces of content helps user to contact us easily.
Include social share links/buttons
Social share buttons help customers to gain more insights about the products working and reliability through varied reviews on the social platforms. Updating your social media channels with attracting contents helps increase branding.
Navigation through the entire site
Manage clear and organized navigation options or links on the website for the customers' freedom to move to any page or region quickly without any confusion.
The website should be mobile-responsive, i.e. work on smartphones smoothly without any limitations of display, scrolling, and size scaling.
An SEO-friendly website is always cost-effective, brings organic traffic, provides brand credibility, and sorts out the right customers' perspective.
Perform continuous testing on the website
Build a habit of regular testing on the website to make it live all the time by fixing current issues and creating room for improvement in the future.
Manage easy contact with experts for service
While developing a website, ensure that the Contact links to reach our product/service specialists and experts are placed and highlighted at the correct positions for quick client's help.
Key Takeaways from G2 TechSoft for your web development
Utilization of the above web development trends and tips can assure business values with high customer engagement and the developers can look out for such modifications while re-designing their websites.
There is a smart choice with business-holders of hiring a trusted web development company to save entire efforts. Select the most popular website and web application development company, G2 TechSoft that delivers outstanding web development services to its onshore and offshore clients with expert consulting services for high standard web development keeping up with the current trends and technologies. Visit the website link and reach out to us by contacting with email including your project details and requirements.
On the discussion of the web development trends in 2021 and the useful tips for web development, we got a future perspective of the development of highly engaging websites for clients that ultimately lead to good business sales and revenues. Moreover, a smart contribution of a reputed website development company for quick, expert, and advanced web development services to any business are always fruitful.