Why You Should Outsource Your IT Infrastructure Management and Operations?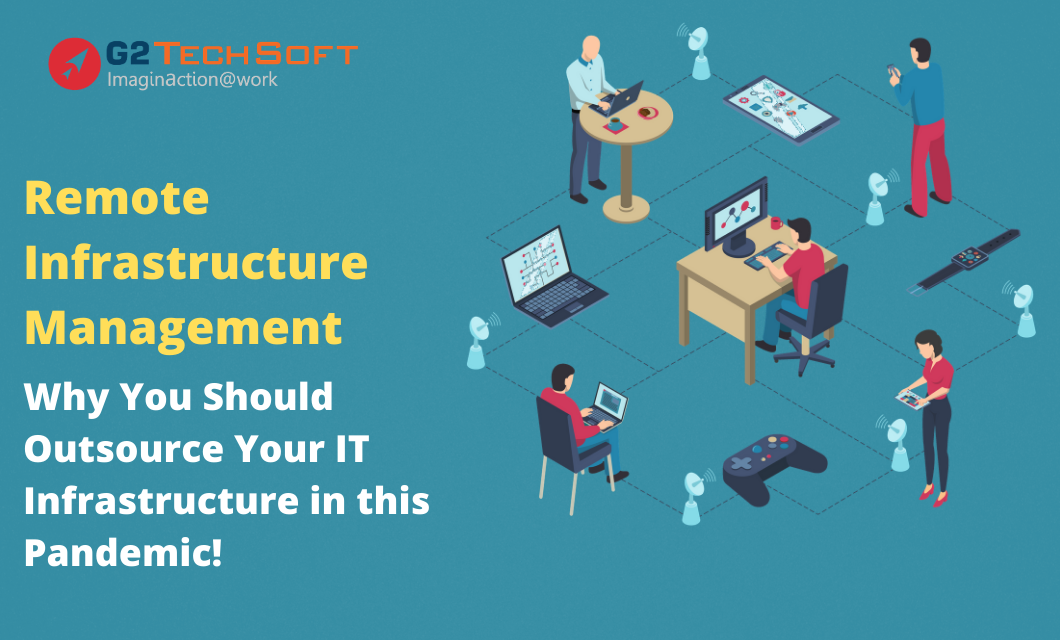 Remote Infrastructure Management: Why You Should Outsource Your IT Infrastructure in this Pandemic!
Ongoing pandemic has a distribution effect on almost all business sectors. IT or Technology Sector is suffering massively dealing with the slow growth rate and a peculiar estimated overall loss of about USD 1 trillion globally. The loss is also shared in the declining percentage in the products and services demand. According to US Census Bureau Survey for small businesses, about 38 percent were admitting it as a large negative impact on their business revenues. Such a large effect on the business economy with rising cases of Covid-19 globally needs to be taken seriously to save small and medium scales businesses preferably.
The complex economic condition of the IT industry in this pandemic calls for strategic decisions to perform advanced business management and that is why business outsource option has emerged greatly. Based on various researches and reviews, IT infrastructure management is the need of the hour, and the most effective way is to outsource your IT infrastructure and services. Outsourcing IT management infrastructure holds the potential to boost the IT sector economy from the current drastic situation by facilitating reliable IT support and managed services from an external resource without wasting skills, time, and efforts on in-house enterprise infrastructure management.
How COVID-19 could Drive Demand for IT managed services and operations?
Covid-19 would prove to be a driving factor for the high demand for IT managed services and IT support services in the coming future owing to a current trend of remote working, the "new normal" of many Small, Medium, and Big Business Management Corporations that is expected and suggested by many renowned organizations to continue for a long time. Seeking this as an opportunity, most of the small scale organizations (about 11 percent) are willing to completely transform into the managed services providers or MSPs for the other IT and business organizations.
Growth in the remote working of the employees due to this uncalled pandemic has driven Remote Infrastructure Management requirement for the IT businesses and organizations for managing IT infrastructure and network infrastructure. E.g. Current Work from Home employees are securing commuting expenditure and doing well under online supervision with minimum expenses, the infrastructure management outsourcing is also expected to bring down superfluous costs and efforts directly to an organization with flexible and wide range services deployment options.
This act of following remote infrastructure management is like deriving positive attributes from the most despised Pandemic and adding more to the cost revenue with the remote managed IT services.
Business Benefits by outsourcing IT infrastructure Management
Many IT professionals debate on the work from home strategy for the employees and its benefits to the businesses. Some perceive it a boon and better way to enhance enterprise managed services and resources while some are in the favor of the conventional way of office working. We are adapting to this new normal and most of the industries are running businesses with outsourced IT solutions like iaas infrastructure as a service which is a favorable aspect for them as it is bringing profits to their businesses.
Read the multiple advantages to IT businesses to learn why to outsource your IT infrastructure management and services.
IT infrastructure deployment from external resources serves a fair deal of expenses with a variable cost structure for the managed IT support services. It means cost shall be paid on the service provided only. This eliminates the need to pay fixed salaries to the IT professionals as prevailing with in-house IT infrastructure deployment culture which may or may not deserve that according to their contribution.
When you outsource your IT infrastructure, you gain an additional advantage of instant service deployment or optimization even beyond your business bandwidth. With the instant change in the work environment, the requirement of fresh technology or strategy would emerge that is facilitated by the IT outsourcing companies in minutes. So, the quick deployment of remote IT infrastructure management services helps to avoid business downtime in such conditional scenarios.
The inclusion of custom-made IT solutions complementary to business growth is possible through remote infrastructure management only. It is one strong reason why should we outsource IT infrastructure services as flexible design and IT infrastructure components are on a reach with it. IT services business would be more in demand with the customized IT infrastructure deployment.
To handle the Business Compliance requirements, depending on in-house, non-verified security network management would be a risky affair. While outsourcing IT companies, there comes proof of skilled IT support and help desk providing better compliance at all levels including remote infrastructure monitoring without risking information at any level.
The IT services business growth goes directly proportional to the involved efforts in its core competencies. As any business adopt IT infrastructure outsourcing with management services such as server remote management, remote network management, data center infrastructure management, or infrastructure operations management, there opens a wide space for IT businesses to work hard on its core competencies rather than wasting time on services that can be outsourced and managed better.
Business risks are unavoidable, be it in any sector. By choosing the right outsourcing company delivering the best informational technology infrastructure and security to remove all the risk factors from its end and keeping business away from it. Outsourced network management is well trained to provide advanced-level cybersecurity and information security cutting down all risks and threats to IT businesses.
Hiring multiple IT professionals or a team of IT personnel would add extra costs of their wages independent of their skills and availability. Integrating IT infrastructure into business is like shedding off manpower from the organization by shifting control towards the outsourcing team to outsource management solutions, handle all IT related issues with outsourced help desk providers and each managed IT service.
Latest Technologies Deployment
A confined mindset strategy and technology adoption in a particular IT business organization restricts its outreach to new technologies available in the market to turn business into a lot of profits without harnessing many efforts. Technologies are that meant for! Outsourcing client managed IT support service allows working and deploying the latest business-related technologies like cloud infrastructure management to help to prosper business enormously.
Why it is important to take care of IT services for your business?
Though benefits to businesses by remote IT infrastructure management are capable of up the business, remote working also opens a door of chances for the online hackers and cybercriminals who happen to look out for a loophole in the network management which is the main drawback and calls for securing IT services more.
Covid-19 pandemic certainly proved itself by double-folding the data breaching cases in 2020 when compared to the previous year causing a great threat to the IT businesses when most of the employees are pursuing remote working and remote IT infrastructure management. Big businesses companies such as Twitter, Marriott, Zoom, Magellan Heath, MGM Data Pump have been prey to cybercriminals through activities like a data breach, accounts hacking of famous personalities like Barack Obama, Justin Beiber, Elon Musk, etc. and government agencies; ransomware attack, credentials disclosure and more. Most small scale businesses are also suffering from confidential data breaching and phishing issues by naïve hackers or other cyberbullies.
Why such an increase in cyber attacking in this pandemic? The answer is data confidentiality risks and loss of control involved with remote working and remote managed IT services. The first half of this pandemic year has been worst in case of cybercrimes but to save businesses from such risks, crucial measures for cybersecurity and information security must be taken while continuing outsourcing IT management. The major requirement is building quality in IT infrastructure services for the business. Some measures to protect the business from cyberbullying include adopting protected VPN connections for remote connections, regular software upgrading with security patches, employees training of online security, better security network management, training selecting experienced and verified managed IT service companies for your organization. Hence, quality IT services are crucial for business maintenance and expansion in difficult times of Covid-19 and thus demands a reliable resource.
G2TechSoft is a bankable organization and a provider of IT Managed services like Cloud migration, Office 365 support, Networking and Help Desk to its clients along with other managed services operations, digital transformation solutions, development solutions, and testing services. It delivers competence services and follows compliance norms for a completely secured outsourcing and secured network connection.
Surviving businesses in this pandemic depend on the right decisions taken on time and supporting mobile remote management with a call of best IT services from the resource. Outsourced IT managed solutions should be handled with enhanced security management through cybersecurity, IT security measures to get a risk-free business even remotely.
Remote Infrastructure Management's criticality during the disastrous pandemic time has been discussed with the current effects of it on the IT business sector. The benefits of outsourcing IT managed solutions and services are described for its promotion to businesses. On the second side, cybercrime incidents that happened during Covid-19 with risks involved in outsourcing IT infrastructure are also mentioned to take a stand on the importance of the adequate care and management of IT services for the businesses.