Scope of AI in eCommerce: How AI is beneficial for business profits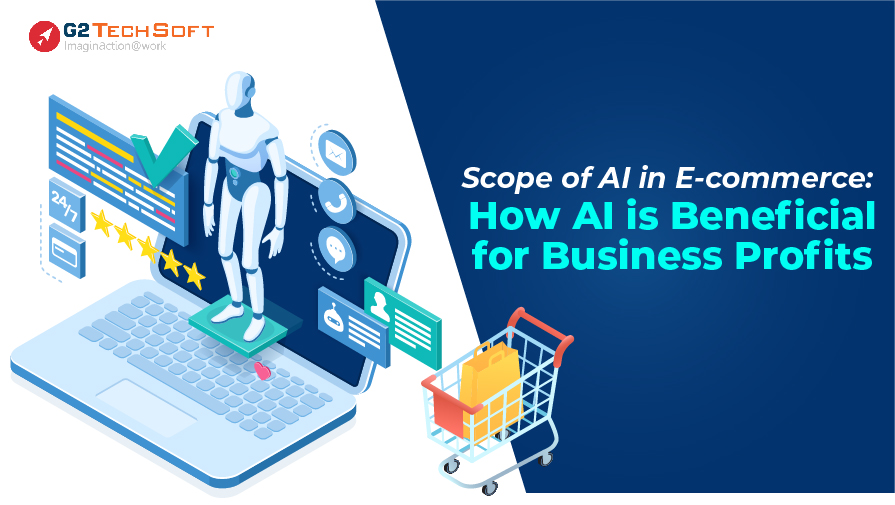 Scope of AI in eCommerce: How AI is beneficial for business profits
Artificial Intelligence is now the most-talked-about science technology with influence in almost every industrial sector whether education, manufacturing, transport, healthcare, or eCommerce industry. While we are surviving in this pandemic situation, we largely rely on eCommerce or retail brands to get essential commodities through online purchases. But, do you realize how competitive each online retail company is and how these are benefitting from the latest AI technology adopting it with eCommerce development? Seeing the high scope of the eCommerce industry in the coming years, many businesses are adopting new AI solutions; the most popular is customer service AI ChatBot to enhance customer interactions, business marketing, and increase sales eventually. Let us have a detailed discussion over the scope of AI in eCommerce and its benefits to this sector.
Artificial Intelligence & eCommerce
Since the advent of the eCommerce platform for retail businesses, it has now emerged as the big source of products and services flow globally. But, with the growing digital competition, it is needed to implement new innovative technology like Artificial Intelligence which could be a reason for big hikes in business sales. Automation of services has reached a top-notch level and AI helping in understanding customer purchase patterns, automating business processes, handling fake reviews and forfeits is something unimaginable. It has revolutionized the whole retail sector and brought a complete change in the way of processing in a very short time. This technology use in eCommerce is quite extensive and we are still progressing for its advanced utilization.
Ultimate big brands and eCommerce companies like Twiggle, Clarifai, Pinterest, Mintigo, Amazon, Flipkart, etc. are utilizing the benefits of different AI solutions and get outstanding sales with the best customer experience and lead generations.
Use Cases of AI in eCommerce
As there are many benefits of AI in customer service just like Machine Learning in eCommerce, it is easy to find various profitable applications of the technology on the digital commerce platform. Let us discuss some smart use cases of AI in customer experience and business advantages.
Customer-Oriented Search
Customer-centric AI in eCommerce is essential for bright sales and smart image recognition software solutions driven by AI can be used to analyze uploaded imagery, take visual cues and then recognize the customers' likings based on their often visited pages.
Smart Payments
eCommerce Amazon Go comparable shopping experience with the automated charge to Amazon account or Smart Cart shopping carts with cameras to tally customer purchases easily, generate and create quick orders along swift payments with mobiles UPI is another AI contribution to eCommerce solutions.
Improving Dialogue Systems
AI presents new opportunities to eCommerce retailers via improved speech recognitions, language picking, and query handling in eCommerce customer service via the deep learning or Machine Learning algorithms that can convert speech into text more efficiently and is adopted by the big brand – Amazon as well.
Controlling Fake Reviews
The use of AI to combat fake reviews is an extraordinary approach. With the built-in Machine Learning program that continuously analyzes the multiple review characteristics, only verified customers are allowed to put the review on the online platform to build the customer trust stronger.
Better Recommendations
Customer behavior can be better analyzed via AI tools and in turn, the best-suited product or service would be recommended to them based on their site visits, page loading, check out time, conversion rate, etc. Personalized recommendation to customers based on their preferences is the next-level evolution of this technology.
Virtual Assistants
Virtual Artificial Intelligence is empowering the eCommerce business with prompt responses improving conversion time by customers and so the business sales. Virtual Assistants like Alexa, Google Assistant, etc. are facilitating a creative way of purchase to customers to which they engage widely to save their personal time as well.
AI ChatBot Customer Service
AI customer service ChatBot is an intelligent solution for customers to ask any type of query related to products, automate order processes, and interact with customer support. AI ChatBot for eCommerce is a simulated program to communicate customers with human-like intelligence which is more result-proven nowadays.
Personalization & Privacy
With Artificial Intelligence induced user experience to get better product recommendations and convenience, they are ready to share their personal details like mail ID, calendar, etc. as they are getting something valuable in return and thus the gap between personalization and privacy is minimized with it.
Multi-Channel Approach
Artificial Intelligence in eCommerce can be used for personalized or unified customer view for multiple channels and devices like mobiles, websites, desktop applications, etc. This advanced service by AI is beneficial in large sales with mobile and convenient purchases in an online eCommerce store.
Retargeting Customers
With AI-powered software, customers' behavior or visit time on a specific product page can be recorded as information and can be utilized for the next visit on the page and thus his behavior pattern can be recorded automatically. This intelligence can help retailers to identify potential customers and target them again.
How Unified Commerce and AI Technology Complement Each Other?
The retailers are following a tendency to evolutes towards the concept of Unified Commerce where different products are interlinked and can be recommended simultaneously for purchase with a unified customer experience based on their behavior and selections onsite and technologies like Artificial Intelligence, Machine Learning, Data Analytics, etc.  These online store platforms are integrated with smart solutions like ChatBot as customer experience intelligence that conveniently understands the human input and responds back with artificial human intelligence as programmed. Artificial Intelligence in retail with unified experience is helping in blooming profits by inducing magnetic attraction towards customers by its personalized services, in-store assistance, smart payments, improved returns, Omnichannel experiences. Customer service and AI also works well with each other and so is the requirement to increase market sales with better interactions and recommendations.
The Future and Possibility of AI in the eCommerce Industry
As per the latest survey by Gartner, more than 85% of marketers believe that Artificial Intelligence technology will have a brilliant impact on the marketing industry in the next five years. This forecast is based on the rising curve of the marketing benefits of online retailers after introducing AI applications in eCommerce or AI in stores. Solutions like AI-enabled email marketing, supply chain automation, Omnichannel solutions, data-analytics tools, etc. are empowering the eCommerce market to another level. Many AI technology companies are already invested for the next 5-10 years with Artificial Intelligence tools to offer to the eCommerce and retail industry. Google, the big tech giant has purchased DeepMind, as a startup AI company while Facebook, IBM, Yahoo, and more enterprises are showing fine interest in the AI-driven solutions and technologies to enhance their business structure. There is an added scope of improvement in this technology as well which is going to be real in a not-so-long time to boost the online businesses and raise the customer-experience level much higher that is suitable to all kinds of environments which may be required to encounter. Overall, Artificial Intelligence in the retail industry is another scientific boon to the business sector to earn revenue and profits smartly.
If you are looking forward to switching your offline business to online retail or eCommerce platform, then you can rely on the popular eCommerce development company G2TechSoft that integrates a smart team of developers who understand all new-age Artificial Intelligence technologies and serve their clients with reliable and affordable eCommerce development services.