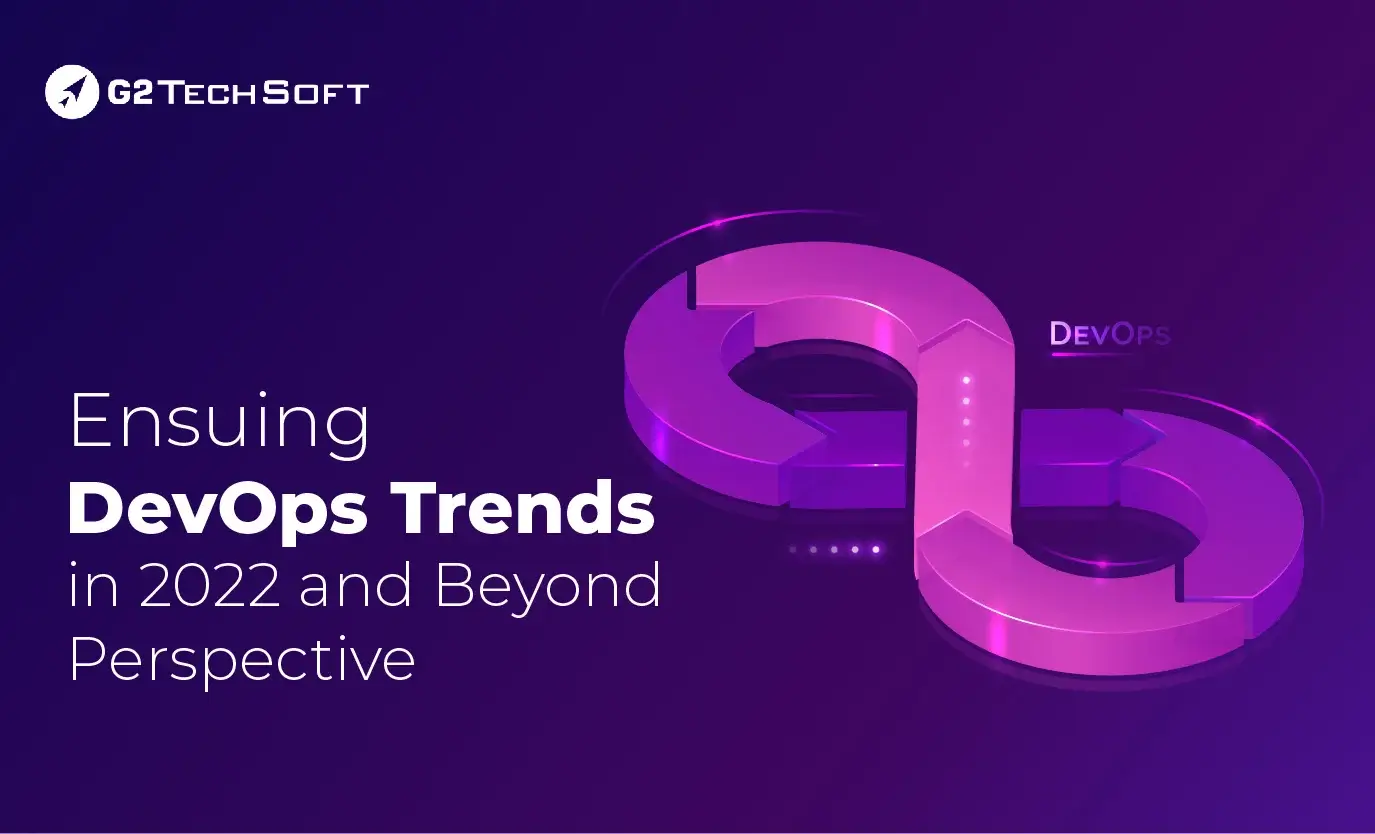 Ensuing DevOps Trends in 2022 and Beyond Perspective
Development to Operations or DevOps system became highly efficient in the pandemic times as its growing associated trends brought down the remote and agile practices providing a flexible way of software development. In the year 2021, more than 80 percent of Surveyed organizations followed the DevOps implementation for agile software development processes. These trends accelerated the DevOps infrastructure and business DevOps in the year 2022 with impeccable advantages such as better quality, quick delivery, fast techniques, high client satisfaction, work flexibility, etc.
About DevOps Market Size in 2022 and How the Market will Grow beyond Future
According to the latest Acumen Research and Consulting report, the global DevOps market size is recorded as USD 7398 million in the year 2021 and is expected to elevate to USD 37,277 million by the year 2030. This remarkable growth time for DevOps 2022 to 2030 will mark an increase of about 20 percent CAGR. The report covers crucial segments like components, deployment, geography, enterprise size, and application. Such sort of DevOps predictions ensures a bright future for DevOps.
DevOps holds critical value in the upcoming years as it is a business approach that offers fast product deliveries and simple upgrades including management structure, operations, tooling, and every development process. The DevOps CI/CD or Continuous Integration/Continuous Deployment is a part of the first phase of the system DevOps. Along with that, incident response systems, real-time collaborations, etc. made it popular in the IT sector.
The global growth market aspects for DevOps is flourished due to rising demands for internet or web-based applications in the Covid-19 times for online access to clients and customers. Some other crucial factors marking the future in DevOps a big growth are as follows:
Need for modern technology for corporate operations.
Need for organizational improvement by businesses.
Need for improved collaborations.
Need for improved operational effectiveness.
Need for automation tool processes.
Need for innovative technology.
The driving trends which bring out the best in DevOps system and act as a catalyst in their market growth include cloud DevOps or usage of the advanced cloud technology in DevOps, Application Management, Machine Learning advantages, Microservices architecture, and more.
Some key IT giants of the DevOps industry are Amazon Web Services, CA Technologies, Google, LLC (Alphabet), Dell Technologies, Cisco Systems, GitLab, Microsoft Corporation, IBM Corporation, and Oracle Corporation. These companies believe in the top reasons which could prove to fuel the remarkable market growth of DevOps in the upcoming years. The DevOps automation tool processes, secured structure management, and advanced technologies for quick processing and upgrades implemented continuously in IT and other sectors like Telecom, Retail, BFSI, etc. help in boosting the market growth in the projected timeframe as per the report.
Check Out DevOps Significance in 2022
DevOps assists companies in achieving the ultimate goal or consistent results in the development and launch of their products. DevOps methods offer to automate the software development, testing the development lifecycle, automating the code migration, and deploying across multiple environments. These solutions enable a one-click deployment capability with every code check-in pushed into the production.  The DevOps methodologies are innovative business strategies that help in delivering products continuously to customers based on their feedback and usage.
Let us understand the most recent DevOps trends that are capable to elevate the pace of automation, innovation, and digital transformation in 2022.
Cloud Native Infrastructure
Adopting a Cloud Management Platform for DevOps in a business provides advanced cloud operations facilities and advantages like efficient utilization of cloud computing resources, high-level cloud security, quality risk mitigations, and better usage of resources. The implementation of cloud infrastructure on a large scale as DevOps CI ascertains the digital DevOps with all cloud benefits.
Automation
Automation in DevOps is a boon as it allows develops to reduce the time for the most complex and time-consuming tasks and helps them focus on the ultimate goal or innovative ideas. It is the core of the DevOps solutions and helps enterprises evaluate their actual potential through automated testing solutions which are anytime better than the manual or conventional way of testing the products.
Usage of Machine Learning (ML) and Artificial Intelligence (AI)
AI and Machine Learning help DevOps teams by improving the feedback loops, managing alerts, reviewing application performance, recognizing and analyzing patterns, deep learning, data mining, statistical modeling, and test completion.  These technologies could become an integral component of the DevOps process workflow soon.
Microservices Architecture
Microservices architecture is gaining popularity in the IT sector as it assists in cloud computing by breaking down large monolithic applications into smaller, separate, manageable units.  This offers quick releases at short intervals. Using service DevOps practices and Microservices architecture, development businesses can build new products and update existing applications faster with a well-designed approach.
Low-Code Applications
Adopting the low-code applications enable users to develop applications without the knowledge of codes and they can create their workflows, and use elements to create the logic which in DevOps helps to develop and deploy user-friendly applications at a much faster rate. This technology trend helps in DevOps methods like QA, Version Control, build validation, etc.
Infrastructure as Code (IaC)
This trend helps in automating resource management and provisioning using code and not with configuration tools. IaC allows for the standardization of infrastructure, easy cloud-native deployment, traceability, delivery consistency, and increased productivity in the software development cycle.  DevOps team can use IaC to build robust systems that can be duplicated and deployed in all environments.
Serverless Computing
Serverless Computing reduces the workload of developers through automated server maintenance (cloud monitoring, system updates). It lowers the costs of DevOps processes and improves architectural stability by streamlining the operations involved.
Container Adoption
Container technologies highly contribute to the growth of the DevOps market. The container as a lightweight, self-contained environment offers an easy way to host and manage web applications. Kubernetes DevOps usage and other container services are high in demand for security, and storage and continue to flourish in the future of DevOps.
Demand for DevSecOps
DevSecOps introduce the DevOps best practices by reducing the risks and vulnerabilities in the software development cycle. It helps in the early detection of cyber risks and assures the security of the system. It is considered to be the best risk monitoring technology.
Utilizing GitOps Service
GitOps is a Kubernetes-based paradigm to let DevOps teams utilize Git to manage Kubernetes clusters and deliver applications. GitOps allows the business to better manage infrastructure and perform operations like version control for configuration changes, real-time monitoring, and more.
Key Takeaways
The businesses working with DevOps experience faster deliveries, streamlined incident responses, improved communication, better security, and more with recent trends in the workflow.  Some core benefits of DevOps technology are customer satisfaction, simple development, quicker product shipments, Automation, end-to-end responsibility support, and better management of unplanned work.
The DevOps trends like Microservices architecture, Automation, and Cloud Infrastructure are great contributors to the digital transformation sector as it enables high-end network security, cost-effective methods, and reduction in time-to-release and release intervals. Today's internet-dependent workflow requires these collaborative services in software development as these deliver high transparency, and better communication with the full support of cloud security to develop highly efficient web-based applications.
For businesses who want to experience unmatchable DevOps services from experts in the market, there is an easy way to do this. Visit the G2TechSoft website and place your queries and project requirements directly.