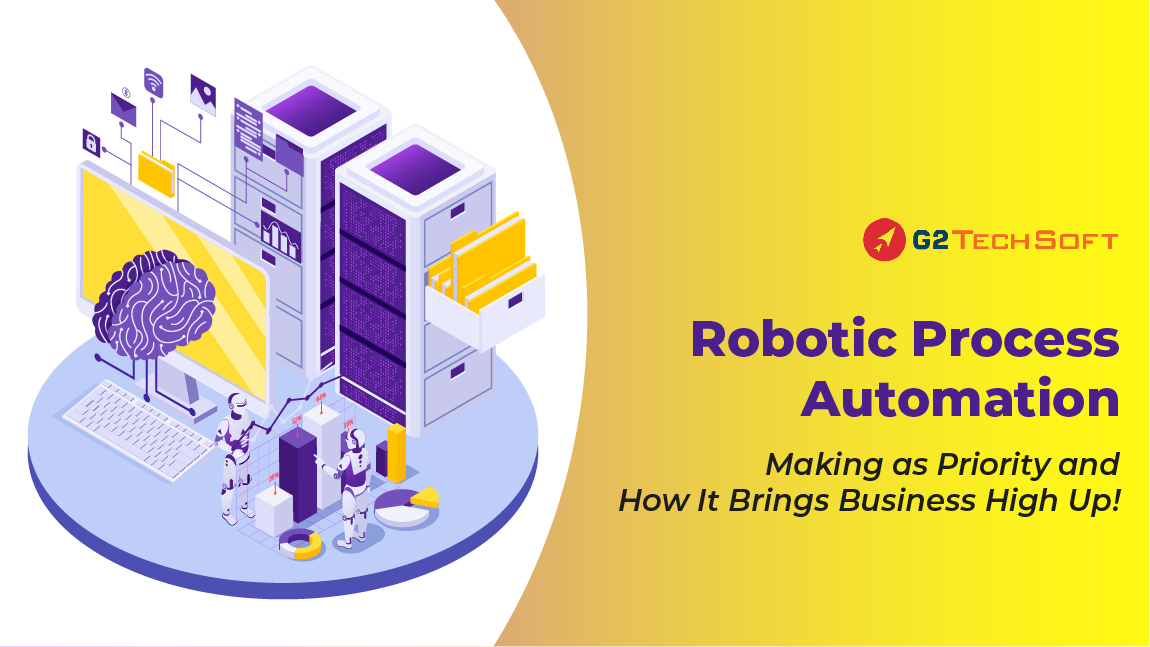 What if all repetitive tasks in a company are automated, freeing up resources for strategic tasks? It's not a dream anymore but now redefining the way companies deliver services and create value for their customers. No wonder it is quickly becoming a key part of digital transformation, enabling businesses to improve speed, accuracy, efficiency and cost-effectiveness, while saving much needed efficiency.
Forrester Research defines robotic process automation (RPA) as "software robots that interact with Web-based applications to perform routine rules.
Understanding Robotic Process Automation
RPA software can automate repetitious, highly structured tasks that are all governed by clear sets of instructions. It's the best way to ensure that organizations are compliant with regulations.
Automation: Reshaping Businesses
Realizing the power of automation, business leaders are adopting automation at a pace. A new study from Autodesk and IDC found that almost 82% of businesses in India have plans to implement automation, and 66% already have some level of automation in place.
In that sense, RPA is an evolutionary technology that has changed dramatically in recent years. What started out being used to automate simple rules has evolved into a more sophisticated tool that can enable users to model complex processes with decision points that can lead multiple ways.
In that sense, RPA is an evolutionary technology that has changed dramatically in recent years. What started out being used to automate simple rules has evolved into a more sophisticated tool that can enable users to model complex processes with decision points that can lead multiple ways.
The world is a big marketplace too. A new market can mean a fresh start for a business, and the introduction of automation offers the potential to gain a competitive edge over rivals.
Take for instance, invoicing is a big headache for manufacturing companies having a lot of vendors. The bot is programmed to look for certain files that are stored in a particular folder. It then downloads those files, and opens them in a PDF reader, which extracts all the data from the invoice. And the bot then saves that data as a CSV file. Once it's saved as a CSV file, the bot can be programmed to send it through an email address, or an FTP server.
That's a simple example, it has many exciting use cases everywhere. Whether it's payroll processing, accounting, customer service and many other tasks can be easily automated through Robotic Process Automation. Retailers have been using RPA for a couple of years now, and the technology is on the verge of going mainstream.
A healthcare administrator is using automated systems to manage claims for insurance companies. She is working to introduce the right systems to make sure that everything runs smoothly, and works efficiently to save time.
RPA bots can also help the account managers to close more deals. They can send out product updates, reminders and other details that would be time consuming for a human to do.
6 Reasons to Implement RPA in Business
Here are the following six reasons to implement RPA in business:
1. Build A Business That Never Sleeps
it's proved that using automation tools can actually decrease the cost of doing business relative to hiring new employees. When tasks are automated, often more efficient processes can be created without a commensurate increase in the cost. And unlike humans, you can expect an efficient level of service 24/7, 365 days a year without any break.
In an Internet-driven era, if you're selling a product or service that relies on the internet, and it's crucial to your business that you're online and available at all times, then you'll want to make sure that your provider offers tools that can allow you to manage large orders and respond to customers when your team is offline.
2. Increases Enterprise Agility
With RPA solutions, enterprises can adapt business processes easily compared to humans, resulting in their agility. It is possible to make quick adjustments within the RPA software. However, human behavior doesn't tend to be flexible. In fact, managing humans is a more time-consuming and tedious task than managing a bot.
Also, Because RPA is layered on top of enterprise systems and it's not an in-built functionality, any change in the software system comes with the lower cost of disruption risk enabling enterprises to make rapid adjustments.
3. Minimises Errors
People make mistakes, but RPA does not. It also produces thorough documentation so you can figure out what it's done. Take for instance, the bank has limited human resources. It doesn't need to keep track of who logs in or out of the online system or what changes were made. But a computer program can do it all without any mistake.
4. Optimum Utilisation of Manpower
Using RPA and AI technologies, organizations are able to free people from tedious tasks so that they can focus on higher-value activities, such as creating products. For example, customer service representatives used to spend time gathering and keying data for rate change requests.
Instead, now RPA bots handle that work, giving workers more time to engage directly with customers about how the services could meet their needs. Because RPA enables people to work with machines, employees can shift more of their time to getting more out of machines as well.
5. Standardization of Process
While many companies may try to optimize their processes, there can be a substantial drop in quality when employees don't follow the same steps every time at every location. That's not the case with Robotic Process Automation. Organizations can use RPA to identify all critical services and procedures, and build replacement bots designed to run those processes in the event they're knocked offline.
6. Removes Siloes
These are exciting times we live in, yet it's too volatile and complicated. Technology and business requirements are changing faster than ever which throws unexpected challenges and also offers exciting possibilities. Implementing RPA for business needs to standardize processes that may require breaking the hard-to-remove departmental siloes.
Implementing RPAs: How to Move Ahead?
A successful implementation of RPA demands 4-pronged strategy:
- Gather
The essential part of automating a process is to understand the process in full before you start. This helps make sure you get the best return on whatever automation project you put together. To initiate the process, at least three groups of SMEs collaborate:
Domain Experts (because they understand the industry).
Process Experts (because they know the process).
Operational experts.
The better you are at capturing details in the early stages of a project, the more likely it will be that your marketing team knows what they need to do to reach your goals.
- Analyze
As the name suggests, this stage involves a core team to microscopically detail out the information collated in the previous stage. At this stage, we recommend in the Analysis stage, the group should examine the problem from varied perspectives and make sure they have a clear understanding of all aspects of the problem. Lean and Six Sigma initiatives would help the core team weed out the steps that do not add any value to the business processes.
If we want to re-engineer the process, we need to know what the current state of the process is.
At this stage, an enterprise should make effort to gather a good understanding of the processes, which they want to automate. Also, make a list of process that cannot be automated.
- Design
In the design phase, detailed due diligence is carried out for the processes identified in the earlier stage. The core team from the second stage continues to support and complete the overall process. These steps help the team identify gaps between where the organization is today and where it will be in three years.
- Execute
In the fourth stage, the team can decide to use Agile, DevOps or a hybrid method to develop and deploy the system. This approach will help improve your business process automation and collaboration amongst development, security, and operations teams while accelerating software delivery if your organization takes this approach.
Yes! Get back your business with RPA Now!
The key message is that robotic process automation solution (RPA) is a reality, and the corporate world has understood its importance fully. We are at the cusp of a deep-rooted transformation change in how work is organized. Unlike other technologies, RPA is not just disrupting the working world; it is changing it. The sooner companies adapt to the change, the better their chances of staying relevant. Companies that will adapt to RPA will gain a competitive advantage and save money in the long term.