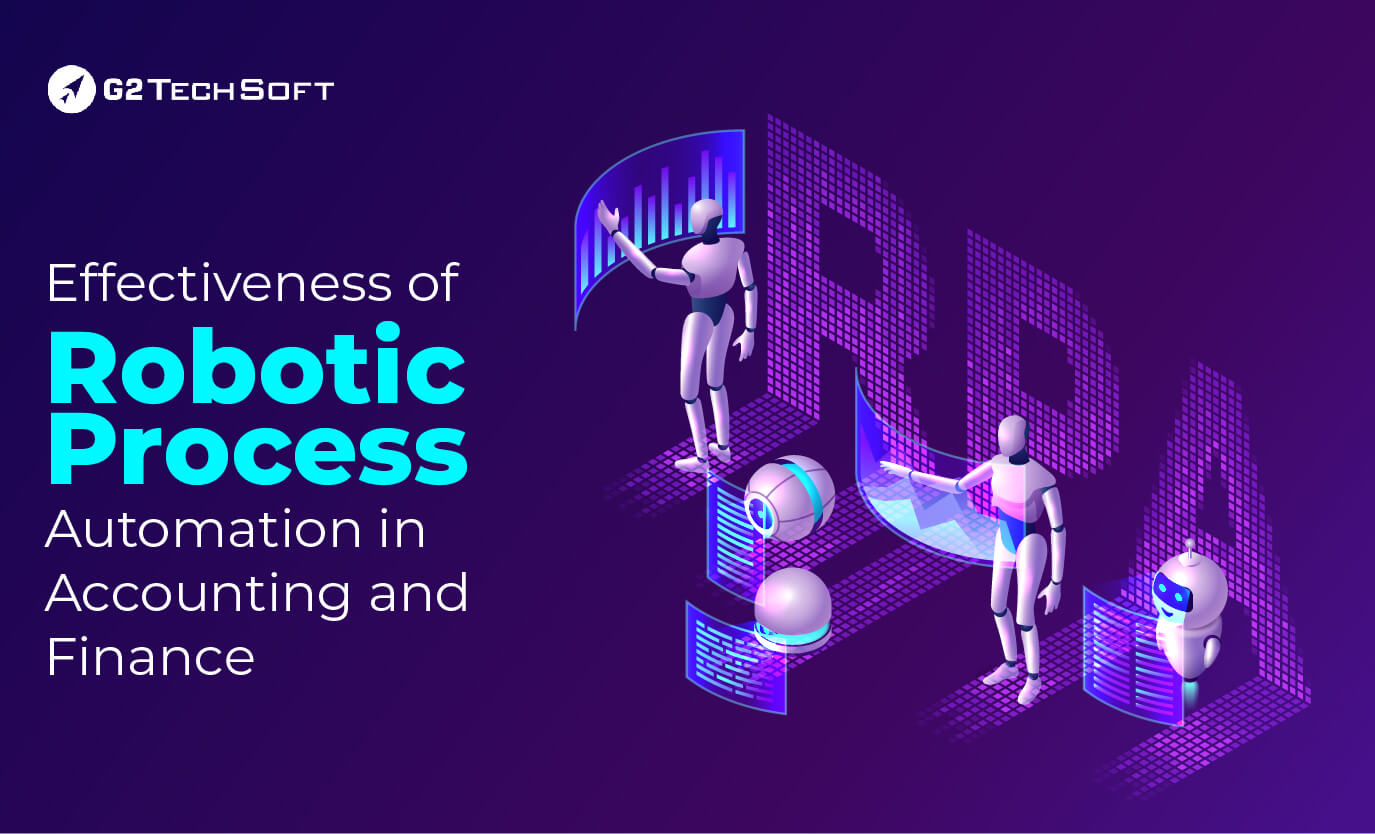 Effectiveness of Robotic Process Automation in Accounting and Finance
The accounting and finance sectors involve a lot of calculative and repetitive tasks based on set rules and standards. Handling such an immense number of tasks manually is another challenge when there is a lot of competition around the globe. The traditional accounting tasks are highly time-consumable, slow processing, and error-prone owing to the maximum contribution of manpower.
To make such tedious, time-consuming tasks easier, the Robotic Process Automation or RPA is introduced into Accounting and Finance industry. By the next two years, along with IT process automation, RPA in finance and accounting is estimated to have an impact on almost all of the big finance and accounting market giants. RPA accounting offers multiple benefits to organizations through speed enhancement, error reductions, process automation, cash flow improvement, and more. The emergence of Covid-19 accelerated the use of RPA technology in accounting and finance firms to sustain in the challenging and competitive market environment with better outputs and a fine alternative to manual processing.
Why does Accounting need Robotic Process Automation?
There are multiple reasons which account for the use of Robotic Process Automation technology in accounting. This technology which is based on Artificial Intelligence and Machine Learning helps in overcoming different drawbacks of manual task processing in the accounting industry. RPA can automate processes that are manual, repetitive, and time-consuming like transactions, tax filing, invoice processing, etc.
RPA bots or software imitates human intelligence and utilizes application-generated scripts to perform repetitive accounting processes and tasks such as invoice processing, expense reporting, payroll management, tax compliance, inventory management, forecasting, etc. consistently and accurately.
Some of the best reasons why Accounting organizations need to have RPA implementation in their accounting tasks and processes are mentioned below:
Consistent & Excellent Delivery
Robotic process in accounting provides consistent performance delivery with exact results which increases customer satisfaction. Adopting RPA in automating time-consuming tasks leads to a highly-satisfactory customer experience.
Saving Extra Labour Costs
Labour shortage is another challenging task for accounting and finance firms which depends on manual task processing. This drawback restrains the on-time completion of accounting tasks. Also, extra manpower costs are irrelevant when compared to the accounting automation processes which offer error-free, consistent, and speedy outputs.
Mitigating Data Leak Risks
Robotic Process Automation in finance and accounting helps in mitigating data breaches through the involvement of automation processes that only provides the required data based on set rules and commands for the particular task. The high-level supervision of confidential data through the implementation of strict regulations in software programs is a benchmark for smart data security through process automation.
Assuring Regulatory Compliance
To compete with challenges linked to regulatory compliance which involves confirmation of industry and global standards, RPA robots can be used to perform regular trials and audits over the management process over sensitive or confidential data of numerous clients globally.
Introduction of Digital Transformation
In the era of global digital transformation, where every task is going on the digital platform, RPA automation is successfully encouraging the technology to elevate business growth to another level.
How Crucial does RPA helps in Finance Function?
RPA or Finance Process Automation provides finance workers a wide range to get involved in more crucial roles other than repetitive accounting tasks which can be disastrous and error-prone when put into manual hands. Let us understand some of the crucial offerings through RPA for the Finance function.
Tax Filing is Much Easier
Automation in finance helps in simplifying tax filing which is otherwise quite complex for the business owners. It provides key data like sales tax, expenses receipts, etc.
Speed Up Cash Flow
Cash flow improvement is observed when RPA is introduced into Finance. This is due to the real-time data update, invoice accuracy, smart reminders, etc. for quick payment processing.
Effective Cost Control
Using the RPA process in finance organizations helps in optimizing budgets through high-efficiency improvement in regular finance tasks like data entry, transactions, tax filing, reconciliation, etc.
Improves Decision-Making Power
Automation in finance functions contributes a sense of clear knowledge of the ongoing process with complete accuracy and consistency. RPA finance enables business owners to calculate the associated risks in advance and they can make the right decision toward the betterment of the service outputs.
Perfect Data Management
Complete accuracy in transactional processes, nil chances of data breaching, and easy data storage on the cloud, all is promised with the implementation of Robotic Process Automation in finance functions.
More finance functions are highly affected by the role of RPA in its processing as it easy the complex, repetitive tasks with a single click on the processed software application.
Benefits Involved in RPA for Accounting
As mentioned earlier, RPA can automate which processes were earlier tiring and complex to perform when handled manually. Other than the common advantages, RPA includes more benefits in the accounting industry. RPA use cases include processes such as Financial close, Procure to Pay, Order to Cash, and more.
Here is described some of the crucial benefits offered by RPA in accounting.
Data Innovation & Insights
While using RPA process automation in accounting, legacy data and new data integrations lead to a powerful combination of information that can be used to develop in-depth insights. Based on these insights, business owners can aim for a new target, or start a new project with complete risk mitigations.
Proven Compliance & Regulations
RPA applications are based on rule-based task processing and support top-notch industry and global standards. It defines ultimate financial success to the organization as there are almost no chances of data breaches or data thefts.
Unparalleled Tasks Efficiency
RPA Automated tasks based on technologies like Artificial Intelligence and Machine Learning leave no scope for errors as the task process is already aligned with set rules, and standards and running on smartly programmed scripts.
High Scope Scalability
By eliminating the need for manpower in accounting tasks, RPA delivers the cost control facility to the organization. Inclusively, it also retains the functionality to handle minor as well as major finance tasks through software programming and script generation based on set rules.
All-Rounder & Competitive
Any industry sustain till it got some competitive advantages in the market. For finance and accounts, RPA is proven to boost the industry by introducing decision-making insights, scalability, and efficiency factors into account.
Conclusion
Robotic Process Automation is being used in different industrial sectors and marked a special position in the accounting and finance industry as well. This is evident with the participation of adoption of RPA technology by major financial or accounting firms now. But, there is another side of this story where business owners are still not aware of the exact advantages and processes to implement such new-age technologies. Such organizations seek assistance from another RPA services provider company that is competent enough to deliver required services at affordable costs.
G2TechSoft is an advance IT services Provider Company that offers efficient Robotic Process Automation services to its onshore and offshore clients. It is a reputed name in the market known for the best software and technology services through a team of market and technology experts around the globe.