How IoT thrives in Healthcare and What are the Significant Benefits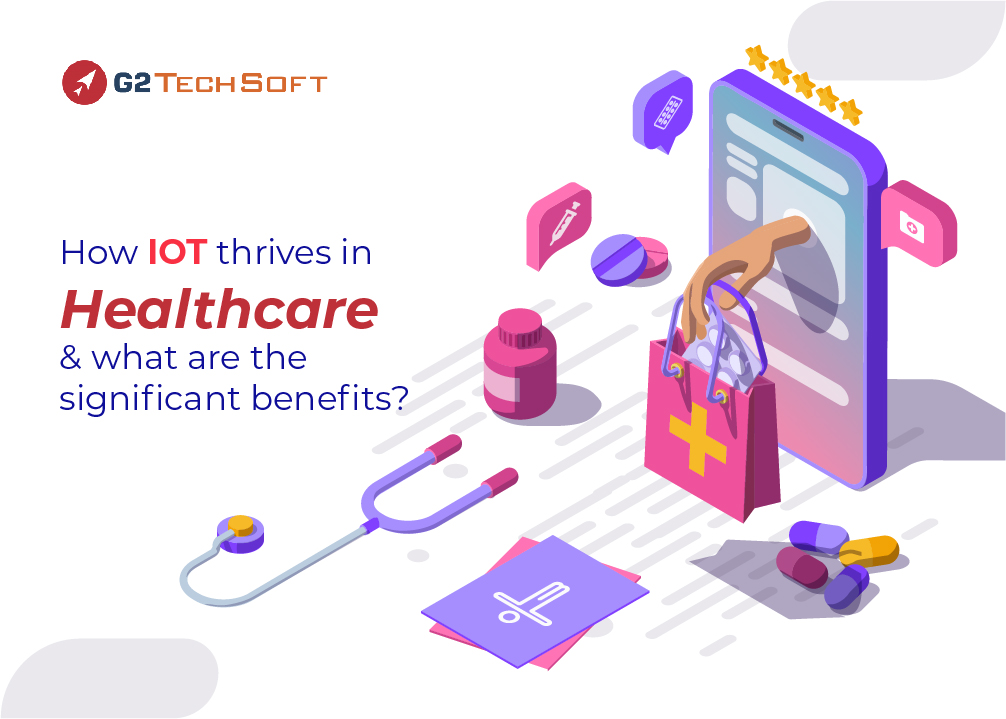 How IoT thrives in Healthcare and What are the Significant Benefits
Internet of Things or IoT when used in healthcare applications outsmarts other sectors in terms of right and intelligent use of applications as it is proving the most helpful in the current pandemic situation. From robotic surgeries to online consultations, IoT is wide-spreading in its approach to letting healthcare industry automation to the fullest. Today any innovative medical technology is based on the Internet of Things providing automatic processing of data and inputs through network devices and then result in useful output to the concerned person or authority with a cloud platform.
As per the latest report by Grand View Research, the healthcare with IoT market is going to reach about $534 million by the year 2025 which shows the real potential of IoT technology with the development of smart IoT healthcare solutions in this field.
How IoT is used in Healthcare?
IoT in healthcare follows a simple workflow where firstly takes inputs through patients or doctors or nurses through suitable of the IoT medical devices, for example – thermometer and then the device would analyze the input data through AI and Machine Learning algorithms used in healthcare IoT application development to send a response to the cloud platform which can be accessed by doctors or practitioners to perform the reliable action or make decisions with the processed output by IoT device. The same principle is followed by the Internet of Medical Things or IoMT technology which helps in monitoring a patient's health condition through the smart medical device and prompting the concerned doctors or health workers in case of emergency.
There are many types of medical equipment based on IoT and some popular applications IoT connected healthcare applications are as follows:
Many big and small hospitals have procured great advantages of health monitoring system using IoT (remotely). Wearable medical devices including Apple smartwatch to monitor heart rate, Automated Device for Asthma Monitoring and Management (ADAMM) for Asthma monitoring, Parkinson's disease monitoring through special APIs in Apple smartwatches, etc.
Ingestible sensors can dissolve in the stomach with a pill to provide necessary medical information to the device on the patient's body. It is mostly used for diabetic patients.
Different IoT uses for patient's comfort like automated lights control, windows shades control, sleeping sensors on the bed to monitor sleeping behavior, etc.
IoT helps in the improvement of healthcare facilities through automated UV disinfection systems for the arena, maintenance sensors for potential hazards notifications, temperature sensors for protection of food and medical supplies, smart security systems with smart locks, protocols, and pre-set programs services to protect healthcare data securely.
Real-time location system for hospitals through AirFinder application used for tracking health supplies in every section of the hospital including the operating room.
The above examples of IoT healthcare app development are just a few of the huge lot currently being used in the industry.
Significant Benefits of IoT in Healthcare
The benefits of IoT in healthcare are boundless to humanity and cannot be examined accurately. However, we have provided some significant advantages of this advanced technology to the most prestigious and crucial industrial sector.
Securing precious lives with real-time data from ambulance
Unlike in earlier times when a patient lost his life even before reaching the hospital, today's smart ambulance equipped with the necessary equipment and medical supplies also includes IoT based servers to connect directly to hospital server platform providing real-time information about patient health and seeking possible treatment at the present time which is an extraordinary approach in saving many emergency patients' lives.
Assure timely treatments with smart maintenance of medical devices
Medical devices when integrated with IoT technology are smart and more convenient to manage with proper tracking of signals, functioning, and related outputs on patient's health assuring accurate and timely treatments without scarcity of medical devices at the right time.
Automated solutions for data error reduction
With accurate data collections, records management, systematic workflows, nil wastage, use of AI and Machine Learning technologies with the Internet of Things in healthcare systems for all health departments, there are almost zero scopes for data errors and their repercussions.
Remote patient care in this pandemic time
Medical homecare with the Internet of Things medical devices used by patients at their home with regular monitoring by doctors from their residence or hospitals providing accurate guidance and treatments remotely helped many patients not risk their lives going out for treatments in this horrific time of Covid-19.
Enjoying transparent insurance claims
Secured health care data available on the official cloud portal with setting up security policies and smart locks via IoT technology removes any chances of frauds and delivers extreme transparency is useful insurance claims for patient treatments.
Smart health monitoring with wearable devices
IoT based wearable health technology or smart health monitoring system using IoT in devices help both patients and doctors to fight against chronic diseases like diabetes, heart ailments, blood pressure issues, etc. through any time monitoring of pulse rates, heart rates, blood test, facility through smart sensors available in a wearable like Apple smartwatch.
Regularize health monitoring & drug management
With health monitoring apps, electronic records, and notifications, it is easy to regularize health monitoring activities for patients and through smart use of IoT technology, the correct amount, timing of medical doses for patients through regular notifications to patient or family member proves highly efficient drug management for improved healthcare.
Future of IoT in Healthcare
With so much automation and convenience in the healthcare system thriving with the IoT technology, it looks like it has a far place to go in terms of healthcare IoT development. Although some challenges come in the way of healthcare IoT app development like diversification in communication protocols, risks of cyber-attacks, hackings, data overloading, website crash down, etc. but still, it does not surpass the high potential of the blooming technology as in the coming years, developers may cover these challenges also.
The future of IoT in healthcare seems promising with more than 50 percent costs reduction, high workforce productivity, and more than 20 percent improvement in collaborations among patients, doctors, and colleagues.
If your business has requirements or queries related to IoT application development or need consultations on using this advanced technology in healthcare or other sectors, feel free to connect us.
Our expert teams are quite popular and reliable in handling smart IT solutions and delivering the right consultations and services within the set time.
Conclusion
The Healthcare industry is a vital sector as it secures precious lives on earth which are engaged in other industrial sectors. So, for the economy of any country, the smart healthcare system using IoT is essential and is certainly approved through the maximum use of IoT applications in healthcare and systems in hospitals and healthcare facilities. It not only treats patients directly but helps in enhancing the productivity of health workers. So, get ready to experience more future of IoT in healthcare, developments, innovative medical devices with the advanced Internet of Things!