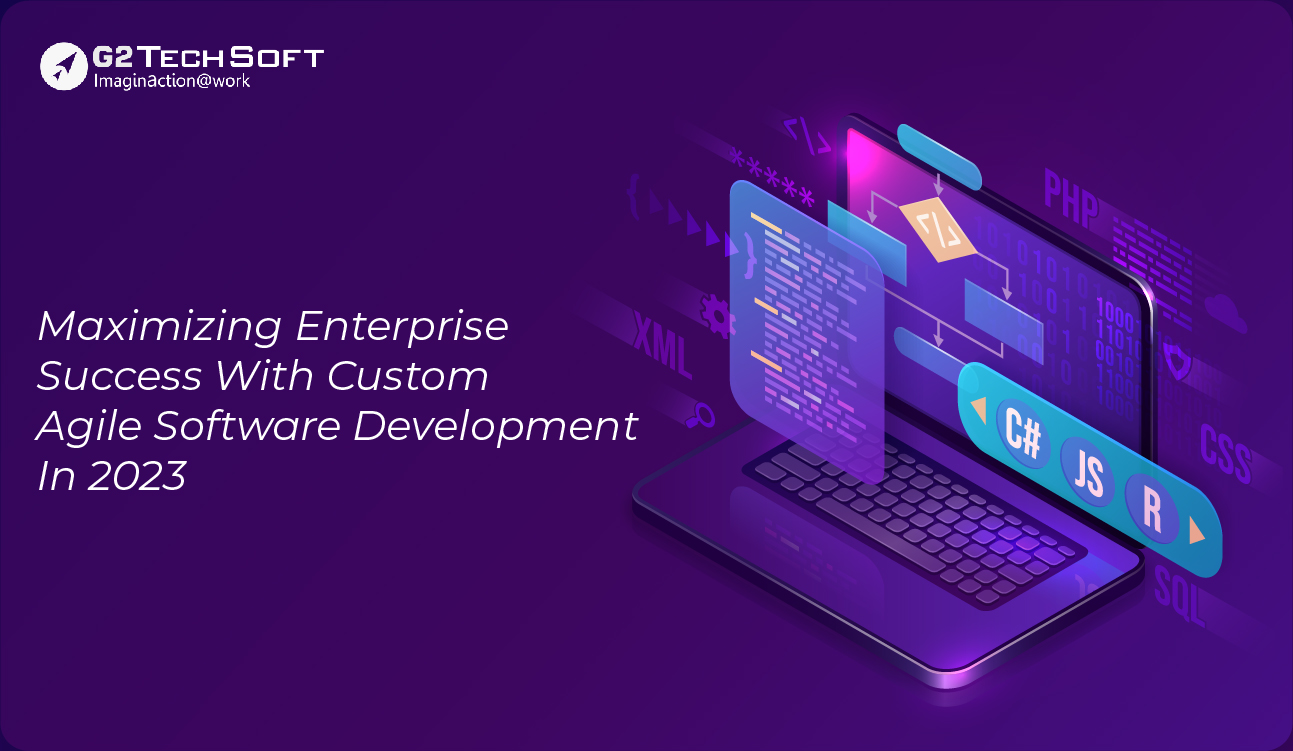 Maximizing Enterprise Success With Custom Agile Software Development In 2023
In today's tough business market, being unique, exclusive, and inventive about your services and offerings would let your firm stand out from the competitors. And investing in the custom agile software development process or employing a software development company will be a crucial component in taking your business to the next level.
Employing bespoke software also gives you the advantage of a trustworthy technical support staff working on the creation of your software program. It is well known that the majority of commercially available software is more susceptible to hacking efforts due to its widespread accessibility and comprehension.
On the other hand, implementing the agile process in software engineering will be more secure and much harder for hackers to access and damage because it's primarily utilized within your firm.
In this blog, let's see how to maximize enterprise success with custom agile software development in 2023.
Importance Of Custom Agile Software Development For Empowering Enterprises:
Firms ought to follow an agile process in their software development if they want to compete effectively and advance more quickly than their rivals. The solution to this dilemma is custom agile software development.
The client is the focal point of the software development process in agile software development. With its emphasis on client input, fast development cycles, and regular releases, it enables prompt modifications and advancements.
Using the custom agile software development technique, software applications may be created quickly and effectively. Collaboration, client participation, and flexibility are the cornerstones of bespoke agile software development.
Agility is essential for success in the contemporary corporate world. It enables businesses to create solutions more quickly than with conventional development techniques. So, firms may create the ideal product for their clients with the help of bespoke agile software development.
Teams can shorten the length of the development process and accelerate the time to market by utilizing agile concepts. They may guarantee that the software they create satisfies the expectations and requirements of customers by working closely with them, which will increase client satisfaction and produce more successful products.
The adoption of agile software development at the company level is crucial for the reasons listed below.
Empirical Process Control:
Agile software development adheres to the concepts of empirical process control. It is predicated on the notion that the ideal method for handling a software development project is to concentrate on the regular delivery of functional software, teamwork, and adapting to change.
The foundation of the agile development process is empirical process control, which is a more adaptable process.
Transparency, inspection, and adaptability are the three cornerstones of empirical process control.
Flexible And Accurate:
Because it allows for an incremental and iterative approach that incorporates internal and stakeholder feedback to produce a final product that satisfies the client's needs, the software development method is known as "agile."
Agile-adopting companies tackle this planning step with precise procedures and numerical equations to categorize and rank user stories to construct their product backlog.
Creative Destruction As Adaptation:
The process through which the new obliterates the old is known as "creative destruction." Creative destruction acknowledges how quickly a firm's many components may change.
Agile software development encourages responsiveness, creativity, and flexibility, enabling firms to react more quickly to shifting circumstances.
Designed For Success:
Agile software development enables the team to provide iterations that are regularly tested and reviewed, altering both the final product and team processes.
Agile has aided several firms in adapting to change more quickly, leading to the delivery of a more pertinent product in a more expedited manner.
Software development projects that use the agile methodology in testing have a success rate that is twice as high as those that use the waterfall methodology.
Revolutionizing Business Processes With Custom Agile Software Development: The Key Benefits
Agile software development is an iterative method of creating software that prioritizes delivering value frequently and quickly. This approach is adaptable and versatile to satisfy client requirements.
Due to its many advantages, agile software development is growing in popularity among enterprises.
Lower Risk:
To guarantee that you are creating the ideal product in the most effective manner possible, agile software development incorporates extensive controls and checks on the product backlog, procedures, and team.
Improved Cooperation:
The use of agile software development promotes teamwork. Agile teams are cross-functional and work closely together throughout the development process to make sure that each individual is on the same page and that the product is built with everyone's input.
Agile teams also form strong relationships with their clients and other stakeholders.
Client Satisfaction:
The goal of agile software development is client happiness. High-performing agile teams put a priority on customer input and can react quickly to customer demands, enabling teams to build products that are better suited to the needs of consumers and leading to increased customer satisfaction.
Quicker To Market:
Custom agile software development enables quicker time-to-market since development teams are better able to respond to shifting client needs and introduce new goods and services more swiftly than ever before.
Reduced Price:
Enterprises may design applications that are specifically suited to their needs, such as integrations, processes, and features, using custom agile software development. Cost reductions are another benefit it offers businesses.
Teams using agile development methodology may rapidly identify and fix any issues that occur throughout the development process by employing an iterative and incremental approach, using less time and resources.
Swiftness And Adaptability:
Agile custom software development is renowned for its quickness and adaptability. Agile teams create functional software rapidly and adapt swiftly to changing customer demands, making it simpler for teams to stay on schedule and guarantee that the product is delivered on time.
Superior Customer Experience:
Custom agile software development helps businesses produce products that are easier for users to use, improving the customer experience. Additionally, it enables businesses to develop apps that are more effective and productive by utilizing cutting-edge technologies like AI and ML.
Overall, several advantages to agile software development may aid firms in producing better products and forging greater client connections.
Software development teams may lower risk, produce value quicker, and yet fulfill client expectations by using an iterative strategy.
Trends To Follow For Successful Custom Software Development
Increased Adoption Of AI:
The pandemic hit has considerably accelerated the use of AI, and there are encouraging indications for additional growth. Because Artificial intelligence reduces costs by increasing productivity and reducing mistakes, a lot of businesses throughout the world are using it.
One way that AI software affects businesses is through robotic process automation. Automation of mundane tasks frees up skilled individuals to focus on initiatives with more promise.
Development Of Specialized Security Software To Combat Ransomware:
In the upcoming years, cybersecurity will undoubtedly still be a major concern. Particularly nowadays, ransomware remains one of the biggest hazards to businesses. As a result, companies will search for machinery to help protect their assets.
Double extortion has become one of the most prominent ransomware schemes, in which hackers unlawfully take a firm's data and demand a ransom to unlock the victim's private information.
Firms that have fully automated their security might make significant savings. Many firms that understand the need for cyber security will get cyber insurance.
Increasing Demand For Cloud Computing Due To Remote Work:
During the pandemic outbreak, almost all firms made improvements to and investments in their remote operation capabilities. Their IT infrastructures and operations significantly changed as a result.
Hybrid working is a new working style that appears when the pandemic diminishes. Some individuals still choose to work remotely because it affords them more freedom, while others choose to go into the office.
In the modern office, solutions like cloud services are necessary since they allow employees to remain productive even while they are not at the workplace.
Wrapping Up:
Enterprises receive a diverse set of benefits from developing custom agile software, and these advantages will persist in 2023. It makes it possible for development teams to swiftly and effectively produce custom software solutions that are suited to their unique needs, saving money and hastening the time it takes to market.
In the competitive business environment of today, differentiating oneself from the competition is essential for success. A custom software development company like G2 TechSoft can elevate your brand to a whole new level.