Explaining the role of Microsoft Intune in business mobility enterprise and security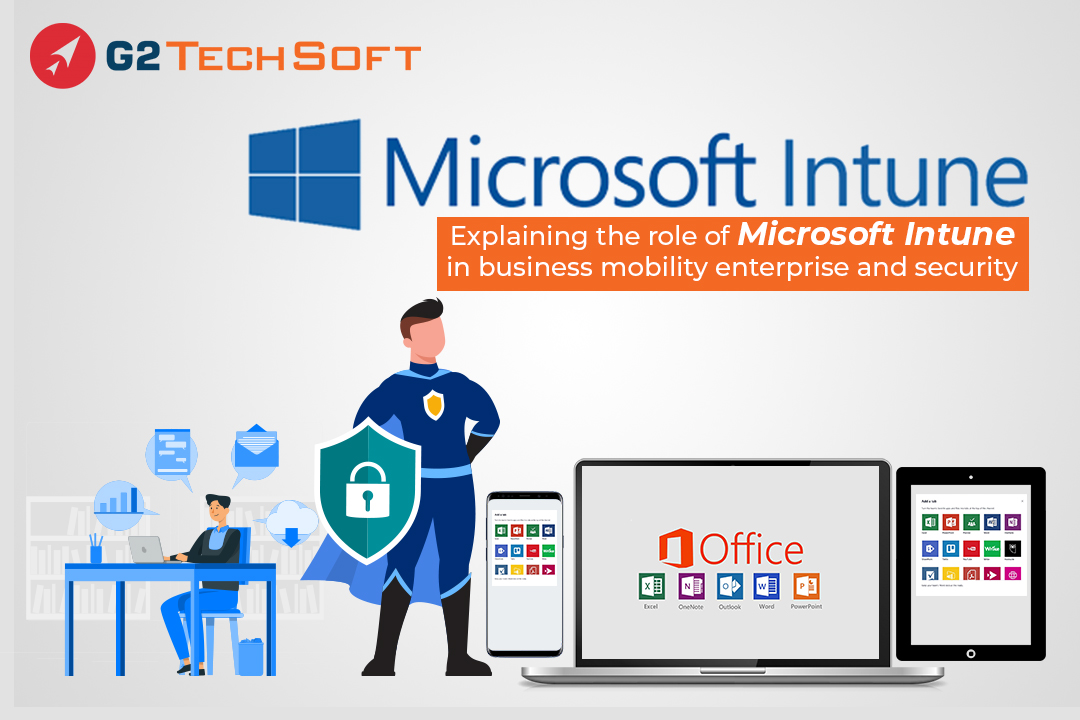 Any business will look around for security and management solutions to ensure the best productivity while keeping the information inflow always protected from internal, external, and cyber threats.  Let us have a profound discussion over the popular Microsoft Enterprise Mobility and Security product known as Microsoft Intune. It is being adopted by many industrial sectors including Government, Accounts & Finance, Education, Banking, IT, etc. as the best Device Management software and Microsoft Security solution growing at par in use in many more enterprises continuously.
Microsoft Intune – Introduction
Microsoft Intune is a component of Microsoft Endpoint Manager or Enterprise Mobility Suite introduced mainly in 2014 and is a cloud-based, mobile devices management, and mobile applications management tool. It manages an organization's devices which can be mobiles, laptops, tablets, etc. The Microsoft mobile device management utility offers users manage applications installed on personal devices as well by configuring certain policies and imposing limits, restrictions. The advanced Intune mobile device management On-premises (Microsoft System Center Configuration Manager) services can be extended to Windows Azure Cloud. It lets users control access permission, secure information by configuring and implementing policies. It is the ultimate Windows Device Management Software with compatibility with all Windows versions including Windows XP, Mac OS X, iOS, Windows Phone, and Android. The service is included within Microsoft 365, Microsoft 365 Government and is available as an Azure service also. It comes with a free trial of 90 days and is an Enterprise Mobility Security monthly subscription plan (E3 & E5). Check out the plans and prices here.
How Microsoft Intune is better than its contemporaries?
It would not be incorrect to say that Microsoft products and solutions are superior to its contemporaries claiming mobile device management products in all manners whether standards, quality, reliability, or performance. And so is the case with the top MDM software, also known as Microsoft Intune of Microsoft Enterprise Mobility & Security.  It reaps all the benefits of mobile device management in both cloud and hybrid platforms some of which are mentioned here.
Available to use with all Microsoft 365 suite of products (OneNote, Microsoft Teams, etc.) in mobile devices as a device management system
Offers advanced mobile device data protection via integrating with Azure Information Protection
Complete Cloud configuration as well as hybrid (Microsoft System Center Configuration Manager) device and application management
Confirms information security with intelligent access and sharing controls
Supports personal as well as organization's devices for settings rules and policies
Maintains security compliances with all organization's reference mobile devices and applications
On-premises and mobile devices applications deployment and authentication
Microsoft Intune's Benefits with Enterprise Mobility and Security
Microsoft Intune mobile device management and mobile application management can be utilized by clients via a web-based portal only and no on-premises infrastructure.  By many experts and mobile device management companies, it is considered as one of the best management device management solution available till today which certainly holds up a great scope for business enterprises as enterprise mobility solution and Microsoft Security solution.
Here, we will be elucidating some of the prominent benefits of Microsoft Intune to any enterprise or organization with its implementation in the existing business.
Both On-premises & Remote Data Management
With the Microsoft Device Management solution, Remote Mobile Device Management is facilitated via access controls with secured policies and set regulations over its cloud portal. For On-premises mobile device and application management, advanced configuration manager as Microsoft Computer Security is sorted out for smooth management over devices keeping tight security of information with Data Protection policies.
Mobile Apps Management
Enterprise applications on organization-owned devices and personal devices are optimally managed via Intune Device Management with applications assignments to certain groups, the configuration of settings, updates, apps usage tracking, and more tasks for better access control and protection via threat detection, rights management, etc. over sensitive information over organization-owned mobile applications (managed and store apps).
Devices and Patches Management
Intense Office 365 Mobility and Security with Intune lets business apps management along with no chance of data leakage or loss. It ascertains any future risks with advanced tracking capability and lets administrators patch applications and systems on time to sustain health in such scenarios.
Mails and Data Access Security Control
Conditional Access control is an advanced tool incorporated in the Microsoft Intune service to restrict unauthorized or unwanted access to emails and data with the Microsoft 365 cloud platform of any enterprise. The best enterprise mobile device management tool may include multi-factor authentication or Intune enrollment compliances for users to access the corporate data.
User Identities Management
User identities protection is another favorable objective of the Microsoft Mobile Device Management solution as we understand that access to user credentials is the ultimate route to data thefts. It deploys multiple access control policies, MFA, secondary password policy, and more strategies to assure only authorized access to user identities for the account.
Advanced Cyber Threat Analytics
Microsoft Cyber Threat Analytics service as an integrated part of Enterprise Mobility and Security or Mobile Device Management software helps in protecting On-premises user identities utilizing cloud intelligence. It aims at only actual threats, assesses them efficiently with the help of a security operation team, and then resolves all vulnerabilities even before actually the happening of any data theft incident. This service is highly beneficial for enterprises seeking information protection from all sorts of cyber threats.
Exclusive Bring Your Own Device Program
There are many employees who do not desire to rely upon the organization-owned devices or want to have two mobile devices separately for personal and professional use as it seems hectic sometimes. For their convenience, Microsoft Intune or Mobile Device Management solution supports Bring Your Own Device or BYOD programs approach in enterprises where only Office or corporate mobile apps are enrolled or managed with access controls and information on these mobile apps is secured via implementing specified implement protection policies.
So, the smart Windows MDM solution, or what we call it, Microsoft Intune holds immense potential to secure enterprises' mobile devices apps data and in combination with other Enterprise Mobility and Security products are the best mobile device management solutions.
It is tough to conclude the mobility and security best solution for any enterprise until examining it on your own. But, only considering the ultimate advantages and reliable features of the smart product of Enterprise Mobility and Security suite, Microsoft Intune, the smooth operations with high productivity without risks to user identities, apps data, unauthorized access, and data sharing can be assured which is the crucial requirement for enterprises these days where there is no dearth of smart hackers all over the world.
Ready to integrate Microsoft Intune into your Business!
Are you realizing the need to deploy Microsoft Intune in your organization? If yes, then should be more confirmed about this service. For pursuing the best consultancy for Microsoft Intune service implementation and use, contact G2 Technology Solutions Pvt. Ltd, a leading IT solutions and services firm known for its advanced digital transformation solutions, expert consulting via experienced professionals, testing and development services, and more. Mail us with your project query and details.