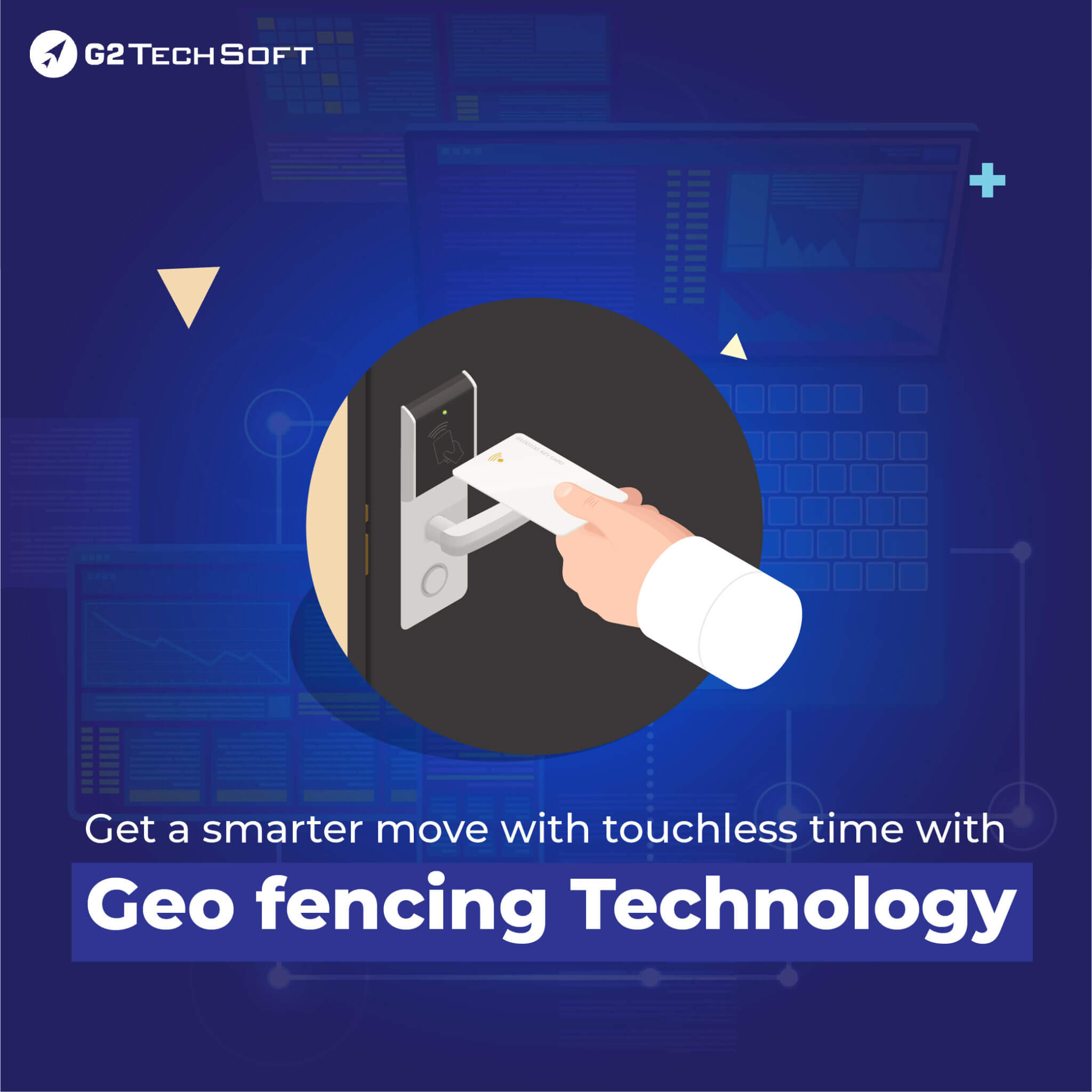 Get a smarter move with touchless time with Geo fencing Technology
In this revolutionary era of technology, every niche of business has been empowered in a way that miscalculations and time-consuming processes have been eliminated to a larger extent.
Due to the advancement in technology, tracking of the employees' on and off working hours, project time, and budget all in one place have been possible with time tracking software and app, which provide real-time data.
Touchless Time Entry using Geo-Fencing & the Benefits
Time tracking tells you how much the spending of the organization on the employees and the projects each month and year is. It is an important key to understand the cost to the company (CTC).
The employees may carefully use their timecards to check-in and out but there can be glitches or delays which may result in an error in recording time. Also, in some recent time, from the Covid-19 pandemic, organizations have changed the way of working. Hence, it is much needed to streamline HR tasks, particularly the employee tracking system.
There are many industries such as manufacturing, finance and accounting, and consulting companies, which are critical to time management and are trying to implement solutions that can capture automatic time entries.
The Geo-fencing system provides the whole touchless time-entry process fully automated. This can be integrated with the existing ERP application of the time and attendance modules, such as the Oracle time entry module having oracle ERP software and oracle ERP cloud.
Overview of Geo-fencing Technology
When a device enters a set location, the Geo-fencing system is initiated. It supports GPS, Wi-Fi, and RFID connectivity including software that tracks people and the assets to check virtual fences.
The virtual perimeter which is marked with the exact geographical location is called Geo-fence.
When a GPS device, RFID, or mobile device, enters or exits, it triggers a pre-programmed action such as an alert.
Benefits of Geo-fencing in Time Tracking:
Some of the benefits of geofencing in time tracking are:
Least chances of Time Theft
In a particular location, those employees who are not working or logging in to start their work can be tracked.
Accurate Employee Time Tracking
Realistic data where the employees are and how much they are roaming around in a job site can be collected.
Flexibility
There is flexibility for employees to log in/log out from different locations if they stay within the geofence.
Alerts
On a job site, you can get alerts if someone enters unauthorized zones. These alerts can avoid high-security concerns if someone crosses a predefined perimeter.
Benefits of Time Tracking within Employers, Employees, and Prospects
Due to the hi-tech gadgets, software, and Oracle application such as Oracle ERP system and cloud Oracle, it has been possible to keep track of employees' punch in/out, productive/non-productive hours, and attendance in real-time which saves the organization's time and money scheduling, payroll, billable hours, labor costs, and time tracking.
The benefits of time tracking are not only for the business app owners but also for the employees and customers. Employees get paid every single penny for their work in the organization.
Some of the advantages of using an Employee time tracking app are described below.
Track on Underperforming Employees
In an organization, a specific task can be given to the employees and with the help of time tracking software, it can be seen how long it takes for each employee to complete their task and thus underperformed can be monitored.
This time clock app can eliminate the chances of time theft such as longer breaks, lunches, or even multiple breaks, and productivity within an organization can be increased.
Increases Productivity& Efficiency
Knowing the fact that the time tracking app is installed, everybody will know that their time is being tracked with the employee software. So, there is no need to install cameras everywhere also, everything is being monitored already.
This eliminates the requirement of the manager with a larger team, to look after each team member. Hence, the efficiency and overall productivity of the organization increase.
Transparent Payroll Processes
With a time, clock app, a transparent system will bring the true worth of the employer's time consumed throughout the month, and with the actual record, they can check. The employees who are putting in a lot of effort can be tracked and rewarded well.
Efficiency in Cost& Time
With this time management app, there will be no chances of errors as all the information would be auto-logged anytime and anywhere using a computer or mobile device.
Paperless
Time app for tracking eliminates the requirement of the conventional method of keeping records such as keeping piles of notebooks with errors, wear, and tear.
Access from Anywhere
Working hours of each & every employee, whether in-house or remotely, can be monitored & track in/out on their mobile devices.
Experience & How Productive is Time Tracking?
After the Covid-19 pandemic, there have been significant investments and R&D in touchless solutions. This is because of the benefits like increased productivity, lower costs, more efficiency, and smarter buildings and cities. Examples, Bluetooth readers to avoid the limitations of traditional swipe and touch card readers, touchless exit sensors to avoid manual buttons, an ANPR system for frictionless parking access, touchless vending machines, cashless canteen services operated by a mobile app, and many more.
The concept of smart buildings, smart cities, and smart campuses came from the advancement in touchless technologies giving the businesses sufficient time to focus more on their core mission.
For example, when there is no person in the meeting room and no other meetings are scheduled for some hours, the building management system automatically adjusts the lighting system, and temperature to "vacant" mode and locks the room. It also provides a safer and more secure environment.
Many businesses are adopting efficient Time Tracking software to enhance their business efficiency and reduce extra workload for data & time management. There is multiple free Time Tracking app for employees available online which comes with certain limitations and get an upgrade with more features at a certain cost. The authenticity and reliability of the tracking app depend upon the productive reports as well as smart integrated features without any loopholes. Such tracking software usually utilizes the rotational, editable pop-up messages reminding employees that they are under continuous surveillance helpful for better performance at the concerned workplace.
Conclusion
With the introduction of advanced touchless systems such as Geo-fencing time tracking and other time tracking app, there is no chance of documentation errors, loss of data, or any unauthorized behavior via employees. On the other hand, time theft within the organization has been reduced quite a lot. This has made the whole process streamlined and fully automated which overcomes the challenges such as managing payroll, and working from remote locations, and has increased the efficiency of business enterprise remarkably.
The touchless system facilitates the building of smart cities; smart campuses, etc. with safe and secure IT work management. The employee or work time tracking has resulted in a productive work environment building a sense of responsibility along with the least chances of data theft, idleness, and time loss.
If inspired by the powerful benefits of the Time Tracking applications to your business and workplace management and wish to install the best app in the market, contact the finest software developer experts at G2 TechSoft to get the smartest and most reliable technology assistance that is there just a mail away!