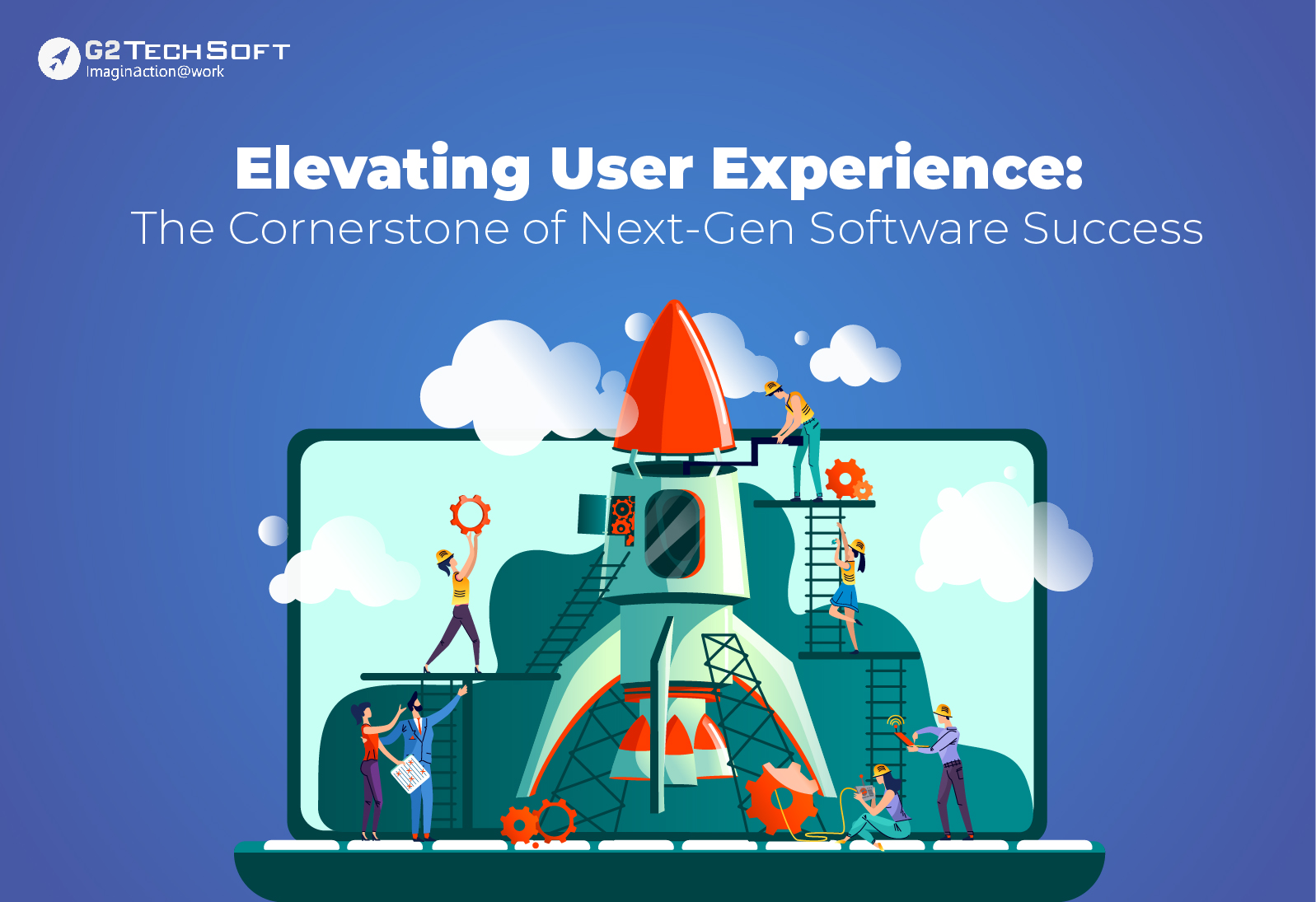 Elevating User Experience: The Cornerstone Of Next-Gen Software Success
Many existing enterprise applications were built before the era of intuitive mobile and web apps. While organizations have invested in business software, user experience is often not a top priority. As a result, current solutions can be complex and frustrating to use. However, today's workforce expects user-friendly digital tools similar to what they use personally. For businesses to empower productivity and engagement, prioritizing user experience should be a top priority when developing or selecting applications.
Workers now have higher usability standards, influenced by easy-to-use consumer technologies. Any leading SaaS company's enterprise software will not need to be complicated to be powerful. Their robust yet intuitive cloud-based solutions optimized for mobile deliver engaging experiences. To meet rising expectations, organizations must learn from examples focusing on simplicity and usability.
Mobility is increasingly important as the majority of internet usage occurs via mobile devices. The cloud also enhances the experience by providing flexibility and accessibility. Together, these trends mean applications must be optimized for mobile and cloud-based use to ensure workers remain as productive outside the office as with personal devices. Prioritizing the user experience in this way will boost employee engagement and organizational efficiency.
Exceeding User Expectations: Drawing Inspiration From The Consumer World
Employees today have become accustomed to seamless and engaging user experiences through the apps they use frequently on their smartphones. They can navigate through various apps with ease to accomplish different tasks. Given this exposure to highly intuitive apps outside of work, users now expect similar usability and convenience from the enterprise applications and software they use daily at the office.
However, many existing enterprise solutions were developed before mobility and user-centric design became priorities. They often involve complicated workflows and unintuitive user interfaces that make completing regular job functions a challenge. This disconnect between user expectations shaped by consumer technologies and the reality of dated enterprise tools results in low satisfaction and productivity among workers.
This mismatch led industry experts to coin the term "consumerization of IT", representing the shift where consumer technologies now define new standards for enterprise solutions in terms of user experience and experience design. There is a more robust demand within organizations for software that is easy to navigate and use, helping employees perform their roles more efficiently.
To stay relevant and meet evolving workforce needs, companies must focus on revamping older applications or developing new ones with user experience at the forefront. It will involve implementing user-centered design principles and usability testing to create intuitive and engaging interfaces.
Areas like UI design, user interface design, and UX design should be thoroughly addressed to develop solutions that are simple and pleasurable for users to engage with regularly. Prioritizing the user experience in such a manner can help improve employee satisfaction, drive higher adoption of new tools, and maximize productivity across the organization.
The Game-Changing Role Of UI/UX In Software Development:
While user experience design and user interface design are interrelated aspects of product development, they are distinct disciplines that play different yet complementary roles.
UX design focuses on understanding user needs and designing an optimal experience to meet those needs. A UX designer's goal is to ensure the product delivers satisfaction and value for the user. Through techniques like user research, testing, and workflow analysis, a UX designer will define features, functionality, and how the user will interact with the product to achieve tasks or goals.
Once the overall user experience is established through this UX design process, UI design can begin. Here, the UI designer will specify and implement the visual components that allow the user to interact with the experience. It will involve visual elements like color, typography, icons, and layouts used consistently throughout the interface. It also includes functionality like buttons, menus, and forms that facilitate navigation and the completion of actions.
While UX designers define what users need and want, UI designers translate those needs into an intuitive, easy-to-use, and visually appealing interface. Both roles will require an understanding of users and skills in areas like prototyping, design software use, and development best practices.
Whether designing a mobile app, website, or other digital product, prioritizing both UX and UI design from the start helps ensure the experience and interface are cohesively developed to maximize usability, satisfaction, and business outcomes for users. Employing the expertise of both UX and UI professionals in the design and development process leads to the most effective user-centric solutions.
UI/UX: The Heartbeat Of Software Success
Elevated User Satisfaction:
A well-designed UX focuses heavily on understanding user pain points, desires, and workflows. User research tools like surveys, interviews, and usability testing provide critical insights into how users currently complete tasks and where friction exists. It will inform the design of an intuitive experience that smoothly guides users to their goals.
Pleasing visual design and animations will also enhance the enjoyment of the product. The result is users who feel understood, in control, and satisfied with their experience.
Increased Usability And Productivity:
Beyond making interfaces intuitively organized and labelled, a good UX design simplifies complex processes into easy-to-follow steps. Contextual help and guidance are provided where needed via tips, wizards, or instructions.
For mobile experiences, responsive design adapts the interface to varying screen sizes so core tasks can be completed on any device. Usability testing helps identify and address points of confusion or errors before launch, ensuring users face minimal learning curves or frustration that eats into productivity.
Reduced Support Costs:
Thorough UX planning and testing help surface any points of ambiguity or potential for mistakes before users encounter them. The design mitigates such issues upfront through clear labelling, contextual use of colour and whitespace, and intuitive navigation. It will limit the number of support questions and issues users face after launching. It also lessens the need for extensive documentation and training materials, freeing internal resources.
Competitive Differentiation:
Standing out requires a deep understanding of user goals and pain points beyond basic functionality. Qualitative research informs novel, solution-oriented experiences that create true competitive advantage through heightened usability, enjoyment, and perceived brand value. Regular iteration and testing ensure the experience continues to meet and surpass user needs as they evolve.
Key Takeaways:
Today's workforce has grown accustomed to seamless, engaging user experiences in their personal lives through widely-used apps and platforms. They expect a similarly intuitive experience from the tools they use at work. However, many existing enterprise applications were built before mobility and user-centered design were priorities. This disconnect between expectations and reality can lead to low productivity and satisfaction. To stay competitive, firms must prioritize UX/UI design when developing new solutions or updating legacy systems.
Hire G2 Techsoft For Software Success:
G2 TechSoft is an ideal partner for any firm seeking to develop successful digital products through a user-centric approach. Here are a few pivotal reasons to hire G2 TechSoft:
Dedicated UX/UI Expertise: G2 TechSoft has a team of highly skilled UX and UI designers who utilize modern design frameworks and tools like Sketch, Figma, and Adobe XD to craft intuitive, visually appealing experiences.
Holistic Process: They follow a rigorous UX design process involving user research, information architecture, prototyping, and usability testing to understand user needs and address them comprehensively.
Proven Track Record: G2 TechSoft has successfully delivered numerous enterprise applications and digital solutions to global clients with a strong focus on UX best practices. Their portfolio demonstrates an ability to optimize experiences and drive measurable business outcomes.
Partnership Approach: Rather than acting as just contractors, G2 TechSoft views each client as a long-term partner, regularly collaborating to refine solutions based on evolving requirements and feedback.
Technical Integration: Their designers work closely with developers to ensure UI specifications are properly implemented and experience goals are not compromised during development.
Budget Friendliness: By catching issues early and streamlining workflows, G2 TechSoft's UX-led approach helps control costs and reduces the need for post-launch reworks compared to traditional methods.
With G2 TechSoft's user-centred methodology and expertise across the UX/UI spectrum, organizations can be confident their software investments will result in highly engaging products that maximize user and business value for years to come. Their consultative partnership style ensures long-lasting success.